About South West TUC
The TUC's regional staff represent the TUC by supporting TUC campaigns and objectives and seeking the views of trade unions in the regions.
TUC regional education officers organise a programme of accredited courses for trade union representatives, for more course information visit South West TUC Education.
Trade Unions are helping their members make the most of learning opportunities. Unionlearn is at the forefront of union-led advice and guidance for reps and members. If you would like to find out more visit Unionlearn in the South West
Further South West TUC contact details
Heartunions week 8 -14 February 2016

Join the week of action from Britain's unions. It is aimed at highlighting some of the great work done by reps and their unions across the country, and the damage that would be caused by the government's dangerous and divisive trade union bill. You can find out more and sign up to the campaign at heartunions.org.
Speak out against the Government's Trade Union Bill

Support the campaign against the Government's trade union bill, that will see the introduction of ballot thresholds which threaten the basic right to strike, breaking of strikes by making the use of agency workers legal and restrictions on social media usage amongst many more changes.​ ​Get involved
New West Country Workers magazine out now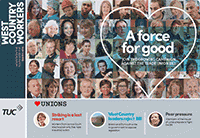 This publication looks at employment relations in the South West and why the trade union bill is unnecessary. It showcases the positive work carried out by unions. It charts the strength – and breadth – of opposition to the bill and reveals it for what it is: an outrageous attack on unions and our ability to raise funds and organise in workplaces. It is unfair, unnecessary, unwanted and we call on people to join our campaign against it. Download magazine (pdf)