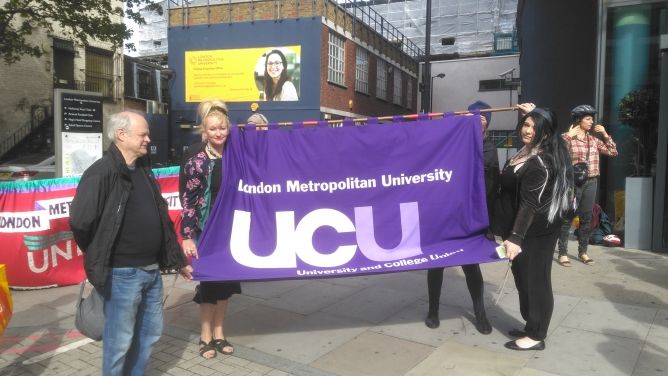 Members of the University and College Union, UCU, at London Metropolitan University were on strike 29 September 2016. The UCU Branch at London Met was on strike opposing cuts and redundancies, opposing cuts to the terms and conditions of staff and arrangements that require existing staff to re-apply for posts, but at lesser rates of pay, and opposing the widespread use of Zero Hour Contracts, under which workers are reportedly not paid fully for all the work they do, such as preparation for teaching classes. And the UCU Branch was calling for the reinstatement of Dave Hardman and Mark Campbell, who have been made compulsorily redundant. They are two of the leading UCU Reps at the university.
The UCU contends that attacks on its members' jobs and their working conditions are ultimately detrimental to the learning environment that is offered to students at London Met University, so it is asking for staff, students and the community to 'stand strong, together, and defend education for all'.
Sally Hunt, UCU General Secretary, addressed a rally outside the University's Tower Building on Holloway Road. SERTUC visited the demonstration to offer its solidarity, and Tom Taylor, Secretary of SERTUC's Creative and Leisure Industries Committee, spoke to the rally.
Later in the day SERTUC President, Tony Lennon, Vice-President, Teresa Mackay, Regional Secretary, Megan Dobney and officers from SERTUC Sub-Groups also demonstrated their support for the UCU in its struggle for workplace justice and constructive industrial relations at London Met.

UCU is asking that supporters use Twitter and Facebook to express support messages and post photos, using the tag #WeStandWithLMetUCU
Laurie Heselden @TUCLaurieHeseld
Megan Dobney @mdobney
Issued: 4 October, 2016