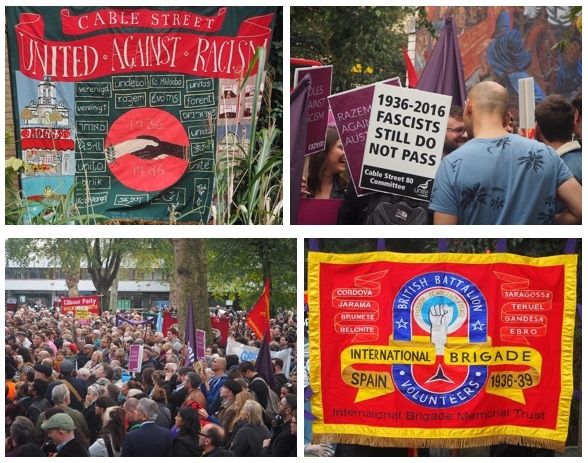 1936 – 2016. They did not pass. They will not pass. Thousands of people gathered in jubilant and yet a determined mood on Sunday 9 October 2016 to remember and celebrate the extraordinary mobilisation by the people of the East End of London that prevented Oswald Mosely, leader of the British Union of Fascists, and his Blackshirts, from marching through their community.
In October 1936 more than 2,000 Fascists planned to march through East London. Cable Street was home to many Jewish families and Moseley's march was intended to be provocative and divisive. The government of the day refused to prohibit the march and instead, 6,000 Police Officers were deployed. More than 20,000 anti-fascists built three sets of barricades in Cable street and defended them. Men, women, children, British Jews, Irish Dockers, Communists, Socialists, trade unionists, anarchists and members of the Independent Labour Party; they successfully riposted attempts by the Police to clear the road, and Moseley's Fascists did not pass. Many anti-fascists were arrested and roughly treated by the Police but the anti-fascists achieved their objective on the day, and many believe that it was the key moment in the defeat of fascism in Britain.
Sunday's event comprised a rally in Altab Ali Park, a march, and another rally in St George's Gardens, adjacent to the famous mural of the Battle of Cable Street. Frances O'Grady, General Secretary of the TUC, was one of the speakers, Megan Dobney, SERTUC Regional Secretary chaired the second rally and SERTUC activists were among the key organisers of the event, including Joel Kosminsky, Jonathan Havard and Dick Muskett. Many others were stewards on the day. SERTUC was proud to sponsor the event and to parade our banner at the rallies and on the march. And we pay tribute to the immense efforts of David Rosenberg in organising Sunday's event.
Sunday was very much a day for the local community and ordinary people, and it was local groups that led the march. But among those marched was Len McCluskey, Sadiq Khan and Michael Rosen.
The struggle for a decent and just society for all, confident in its multiculturalism, is a modern one, and so is the fight against racism and discrimination of all kinds. We must be eternally vigilant against the evil of fascism. Max Levitas, veteran of The Battle of Cable Street, and 101 years young, was wise when he said on Sunday, "Now is the time to stand together".
We must remember our history, celebrate our values, organise, and win the kind of future that we believe in.
Laurie Heselden @TUCLaurieHeseld
Megan Dobney @mdobney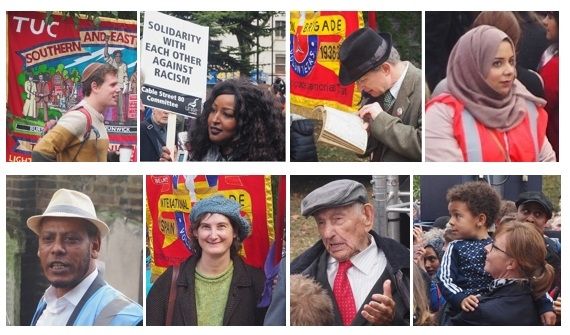 Issued: 12 October, 2016