Touchstone Extras #11 | Download The Gender Jobs Split [PDF]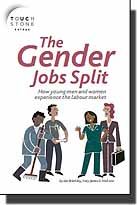 The UK labour market over the past five years has performed very differently from previous downturns. Policy makers are still struggling to work out how much of this difference is a one-off generated by the exceptional nature of a recession resulting from a financial crisis and how much is caused by long term changes in the nature of employment. The youth labour market is no exception.
The big structural story of the past three decades has been the rise of service based industries and occupations at both the top and bottom end of the labour market, and the decline of manual and less skilled jobs. A loss of jobs in the middle has resulted in what has been termed an "hourglass" labour market. Yet the expansion of employment has been greatest in higher level jobs that typically require higher education qualifications to enter. It might be more appropriate to call it a "cocktail glass" labour market.
The youth labour market both mirrors and bucks some of these changes and in different ways for young men and women. The recession and recovery have had an unexpected impact on the gender balance in the labour market as a whole. In previous recoveries, job growth was led by female employment, followed by a recovery in male employment. In this recovery the reverse has occurred. Male employment has grown more than female employment since 2010. Cuts in public sector employment have had some role, but the bigger explanation is that more men are moving into lower wage jobs than in the past.
It is tempting to write up these changes as a generational shift where the structure of male employment becomes more like that of women. And there is some truth in this story – the underlying change has been underway for some decades, with more women taking better paid jobs and more men taking low wage service industry employment. But the overall structure of employment remains highly polarised with men and women dominating occupations traditionally regarded as male (manual jobs) and female (caring, retail, and personal service jobs).
Where the youth labour market (excluding full time students) bucks the trend is in the structure of employment. The shift in employment for those under 25 towards top end jobs has been modest, partly because few under 25s enter managerial and professional jobs. Skilled and semi-skilled manual work still remains almost as important today as it did in 1993. But employment in administrative jobs for the young has collapsed and the share in unskilled jobs has increased significantly.
Education has been seen as one route to challenge these traditional structures. The youth labour market has been transformed with a high share of young people now entering higher education, with exceptionally rapid growth over the past five years. The share of young women holding qualifications at A-level or above is now somewhat higher than for young men and this is a trend set to accelerate as for the first time more young women enter university than young men. However, below degree level, young women typically take a much narrower range of apprenticeships than young men, concentrated in traditional areas such as customer service, retail, health and social care, and hairdressing. In an ideal world, young men who would have gone to university would now be entering high quality vocational educational and training courses as a credible alternative – but our analysis, while not conclusive, gives rise to some concern.
A feature of this recovery has been a significant increase in under-employment, with record levels and shares of those in part time work saying they would prefer to have a full time job and significant numbers wanting more hours regardless of job type. Young people are even more likely to be in this position, especially when we exclude full time students. Their lack of experience often means they are in a relatively weak position in the labour market, and they are more often concentrated in service occupations in which underemployment is a problem.
High levels of unemployment make the labour market a harsh place for young people. This follows the depressingly familiar pattern of economic downturns where the young are always disproportionately affected. But even without the crash, the labour market for young people not following the academic route has become harder because long term structural change has made young people even more dependent on lower wage and unskilled jobs than in the past. The youth labour market remains highly segmented with the opportunities available and choices being made by young men and women on apprenticeships still dominated by traditional occupational roles and by the predominant role of young women in caring responsibilities.
For young people entering the labour market the first few years of employment can be crucial. And these first few years vary significantly by gender, with young women and men experiencing different pathways into the labour market. This Touchstone Extra considers how the pathways into work for young people vary by gender. It is structured as follows:
• Chapter 1 – Considers young people in employment
• Chapter 2 – Focuses on young people in education
• Chapter 3 – Considers young people not in education, employment or training and the support available for young people out of work
• Chapter 4 – Develops the implications of this work for policy
Download The Gender Jobs Split [PDF]
Issued: 1 November, 2013