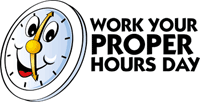 Work Your Proper Hours Day (28 February 2014) is the day when the average person who does unpaid overtime finishes the unpaid days they do every year, and starts earning for themselves. We think that's a day worth celebrating.
Last year, one in five employees across the UK regularly worked unpaid overtime, worth over £28bn to the economy. If you're one of these employees, why not take some time to reflect on how well (or badly) you're balancing your life? This is one day in the year to make the most of your own time.
Take a proper lunchbreak and leave work on time to enjoy your Friday evening - You deserve it!
Long hours are not good for us; they cause stress; they're bad for our health; they wreck relationships; they make caring for children or dependents more difficult; and tired, burnt-out staff are bad for business.
Free posters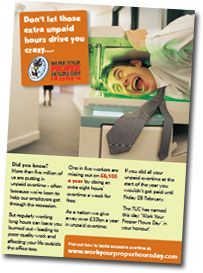 Why not stick up one of our posters to let all your workmates know that Work Your Proper Hours Day is coming? You can download and print one off yourself here.
We also have folding desk cards that you can use on the day to explain to your colleagues where you've gone during your lunchbreak - and why you've gone home on time for a change!
Issued: 10 February, 2014