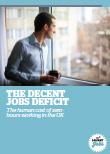 The TUC believes that endemic poor treatment at work should not be tolerated. There is an urgent need to challenge precarious employment and to introduce a framework of policies designed to encourage the creation of decent jobs, offering decent hours and pay. To this end we call on politicians to adopt and implement policies which deliver:
Improved rights for zero-hours contract workers and others on casual contracts,
All workers to benefit from the same employment rights
Equal pay for agency workers
Better enforcement of employment rights for low-paid, vulnerable workers
Download the report from the link below.
To order a copy of the report go to the online publications shop. To receive discounts for bulk orders, download the order form and return it to publicaions@tuc.org.uk
Issued: 15 December, 2014