Unions at Work in the South West - the new publication from the South West TUC showcasing the work of unions in the region's workplaces is available now. Click here to download your copy.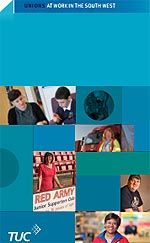 The TUC's regional staff represent the TUC by supporting TUC campaigns and objectives and seeking the views of trade unions in the regions.
TUC regional education officers organise a programme of accredited courses for trade union representatives, for more course information visit South West TUC Education.
Trade Unions are helping their members make the most of learning opportunities. Unionlearn is at the forefront of union-led advice and guidance for reps and members. If you would like to find out more visit Unionlearn in the South West
For Tolpuddle information visit the Tolpuddle Martyrs' website. Festival information -Tolpuddle Martyrs' Festival
Dates for the 2014 Tolpuddle Festival: 18th-20th July.