Tell Conservative Conference: Save Our NHS. Defend Jobs and Services. No to Austerity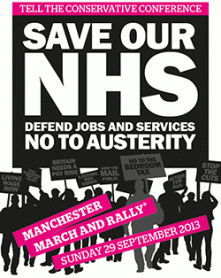 Join us in Manchester to lobby Conservative Party Conference over cuts and privatisation to our National Health Service. Sunday 29 September 2013. Find out more at NHS299.org
About North West TUC
The North West TUC represents nearly one million working people.

We work closely with our affiliated unions to make sure the voice of North West workers is heard in the workplace, in our communities and in wider society.

Our annual workplan is determined by our Executive Committee made up of representatives of affiliated unions, drawing on policies debated at our Annual Conference held each year in the Spring.

You can find out more about our campaigning work at our NW Future That Works website.