Welcome to the website of the Northern TUC
The TUC's Northern region staff represent the TUC by supporting TUC campaigns and objectives and seeking the views of trade unions in the region. Here you can find out more about us, our work and our campaigns.
Nanofibres – the next Asbestos?
Union health and safety reps gathered at Newcastle Civic Centre on Tuesday 1st April to discuss the health and safety implications involved in the production and use of nanomaterials.
Attendees were welcomed by Edwin Jeffries, Secretary of the Northern TUC Health and Safety Forum who introduced the first speaker, Vicki Stone, Professor of Toxicology, Director of Nanosafety Research Group, Heriot-Watt University. Read full report.
Reclaim the Night comes to Newcastle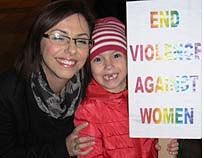 Over 100 women, men, children (and a few four legged friends) gathered at Old Eldon Square in Newcastle City Centre on Saturday 23rd November to support the seventh annual Reclaim the Night event organised by the Northern TUC Women's Group. Welcoming attendees squeezing into the Pandon Room, Clare Williams, Chair of the Northern TUC Women's Group remarked on the fantastic turn-out saying that to achieve more equality we need to build the biggest alliances collectively ...read on

 
Northern TUC Regional Campaign Plan 2013-2015
The Northern TUC enjoys the benefit of well organised, cohesive, broad and deep engagement from a wide range of trade unions in the north east and Cumbria.
The Regional Campaign Plan seeks to support workers in struggle and to enable trade unions to continue to be a progressive force for good, making real and positive difference to working people in the region.