Welcome to the website of the Northern TUC
The TUC's Northern region staff represent the TUC by supporting TUC campaigns and objectives and seeking the views of trade unions in the region. Here you can find out more about us, our work and our campaigns.
Reclaim the Night comes to Newcastle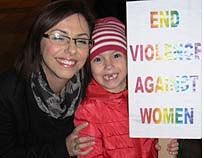 Over 100 women, men, children (and a few four legged friends) gathered at Old Eldon Square in Newcastle City Centre on Saturday 23rdNovember to support the seventh annual Reclaim the Night event organised by the Northern TUC Women's Group. Welcoming attendees squeezing into the Pandon Room, Clare Williams, Chair of the Northern TUC Women's Group remarked on the fantastic turn-out saying that to achieve more equality we need to build the biggest alliances collectively ...read on
 
Northern TUC Regional Campaign Plan 2013-2015

The Northern TUC enjoys the benefit of well organised, cohesive, broad and deep engagement from a wide range of trade unions in the north east and Cumbria.
The Regional Campaign Plan seeks to support workers in struggle and to enable trade unions to continue to be a progressive force for good, making real and positive difference to working people in the region.

Bite Size Briefings January to March 2014
The next round of Bite Size Briefings takes place between January and March 2014. Briefings take place at the TUC Regional Office, 1pm-4pm unless otherwise stated.
Covered in this round are: 
Alcohol Awareness – Monday 27th January
Getting the most from your iPad – Wednesday 5th February, 13:00-15:00
Social Media & Digital Campaigning Skills – Tuesday 11th February, Unison Regional Office, Computer Suite, 140-150 Pilgrim Street, Newcastle
Energy Best Deals – Tuesday 25th February, 13:00-15:00
Early Conciliation – Tuesday 11th March
Tax Justice – Wednesday 26th March
Briefing content and how to apply is available in the Bitesize Briefing Timetable.