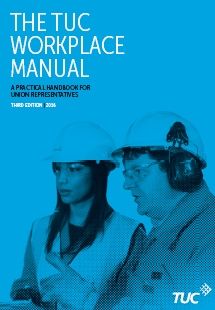 After the success of the first edition in early 2012, the TUC has revised this popular manual to include recent legal changes in employment law and employee rights.
It will be of use not only to stewards but also to anyone who represents, advises or supports members, including learning, equality, green and health and safety representatives.
The new edition is an A4 size, 176-page single volume softback. The text deals with all major issues at work. Sections cover the legal background to trade unions; the role of the rep; and representing members.
Extensive checklists, case studies and web resources provide further reference material. The emphasis is on dealing with issues before they become real problems, and following best practice in negotiating and organising to build union strength.
Every rep will find The TUC Workplace Manual invaluable, and every rep will appreciate the wealth of practical advice and knowledge in this book.
Order your copy now from the online shop. Or for bulk orders please download the this form (PDF).
"Trade union representatives are the unsung heroes of Britain's workplaces. Organised workplaces are safer, fairer and better because of what they do."
Frances O'Grady, TUC General Secretary








Issued: 5 December, 2016