About the Wales TUC
The Wales TUC is the voice of Wales at work. With 49 member unions, the Wales TUC represents just over 400,000 workers. We campaign for a fair deal at work and for social justice at home and abroad.
The Menopause: a workplace issue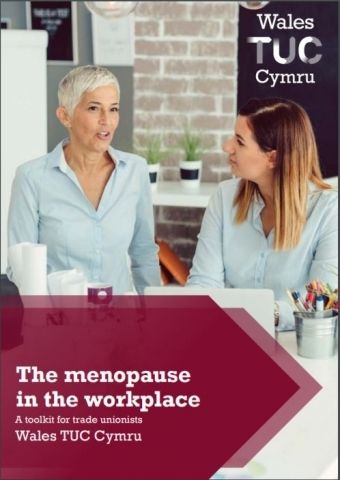 In 2017, the Wales TUC published a report The Menopause - a workplace issue based on a major survey of almost 4000 workers.
The survey found that 88 per cent of women workers who had experienced the menopause felt it had an effect on working life, while around 6 in 10 had witnessed the issue being treated as a joke in the workplace. The survey also showed that only a very small number of workplace had policies in place to support women who experience difficulties during the menopause, and in some cases health and safety issues in the workplace caused women's symptoms to worsen.
The survey showed that many women wanted to see a change in the way the issue is treated at work, and as a result the Wales TUC put together a series of campaign asks of the Welsh and UK governments.
We have also developed The menopause in the workplace - a toolkit for trade unionists to help reps press employers to make improvements in the workplace. Read more...
Wales TUC Course Directory 2018/19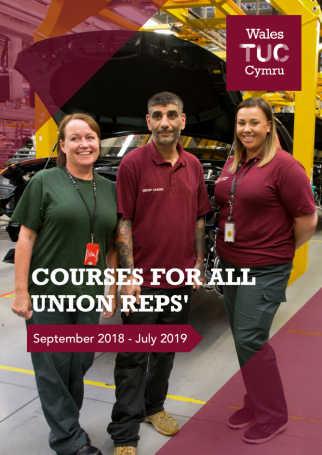 We know what a difference to workers a trained union rep can make. Union reps make sure working people get a voice at work. Organised workplaces where workers are involved in decisions have better training opportunities, better pay and are safer and fairer. Unions can help employers too. Union Reps significantly improve labour retention and reduce absenteeism and involving unions in decision making can help companies survive bad times.
Wales TUC Education provides high quality training for all union workplace reps in Wales through our providers at Coleg Gwent and Adult Learning Wales. Our courses give union reps the skills, knowledge and confidence they need to do a great job and reps will also get nationally recognised educational credits.
This booklet gives details of courses for the whole of the year to come but if you are unable to find a course to suit your needs or you have any queries please do not hesitate to contact one of the Wales TUC Education Team.
---------------------------------------
Rydym yn gwybod cymaint o wahaniaeth i weithwyr y gall cynrychiolwr undeb hyfforddedig ei wneud. Mae cynrychiolwyr undebau yn sicrhau bod pobl sy'n gweithio yn cael llais yn y gwaith. Mae gan weithleoedd trefnus, lle mae gweithwyr yn cael cymryd rhan mewn penderfyniadau, gyfleoedd hyfforddi gwell, gwell cyflog ac maen nhw yn fwy diogel ac yn decach. Gall undebau helpu cyflogwyr hefyd. Mae cynrychiolwyr undebau yn gwella cadw gweithwyr ac yn lleihau absenoliaeth yn sylweddol a gall cynnwys undebau mewn gwneud penderfyniadau helpu cwmnïau i oroesi mewn amseroedd anodd.

Mae Addysg TUC Cymru yn darparu hyfforddiant o ansawdd uchel ar gyfer holl gynrychiolwyr undebau yn y gweithle yng Nghymru drwy ein darparwyr yng Ngholeg Gwent ac yn Addysg Oedolion Cymru. Mae ein cyrsiau yn rhoi'r sgiliau, y wybodaeth a'r hyder y mae cynrychiolwyr undebau eu hangen i wneud gwaith gwych a bydd cynrychiolwyr yn ogystal yn cael credydau addysgol sy'n cael eu cydnabod yn genedlaethol.
Mae'r llyfryn hwn yn rhoi manylion ynglŷn â chyrsiau ar gyfer y flwyddyn gyfan sydd i ddod, ond os ydych chi'n methu â gweld cwrs i gydweddu â'ch anghenion chi neu os oes gennych chi unrhyw ymholiadau, mae croeso i chi gysylltu ag aelod o Dîm Addysg TUC Cymru os gwelwch yn dda.
Wales TUC Cymru campaigns
Disability and 'hidden' impairments in the workplace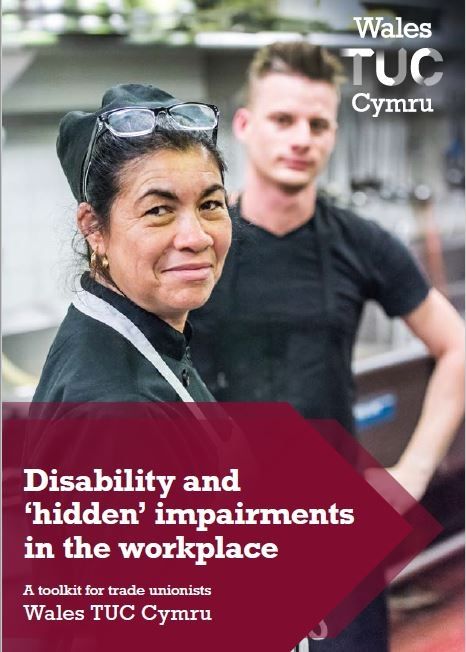 The Wales TUC is pleased to announce the publication of its new disability and 'hidden' impairments in the workplace campaign survey report and toolkit.
We recently carried out a major survey of more than 1000 workers in Wales which found that many disabled workers want to see a change in the way that disability is treated at work.
We carried out this research to better understand attitudes towards and experiences of disability in the workplace in Wales, including those of workers with 'hidden' or non-visible impairments . The research gathered statistical evidence as well as the stories of disabled workers to give voice to those experiences. Read more...
Better jobs closer to home
Wales TUC – powered by Welsh trade unions – has launched the Better Jobs, Closer to Home campaign to demand change for communities where poverty and disadvantage are all too common.
As fresh austerity measures and cuts to benefits from the UK government threaten our most deprived communities with unjust hardship, Wales TUC is campaigning for a plan for a strong local economy powered by decent work.
The Welsh Government has new powers to ensure that public investment in our services directly creates good jobs, where they are needed most. Welsh trade unions are now calling on politicians to commit to using these powers so that investment is committed to the valleys with organisations who employ disadvantaged and disabled people on decent wages and good conditions. This means creating good jobs for young people, lone parents, adults without qualifications and the long term unemployed among others. A radical move to create actual opportunities for those shut out of the jobs market.
But it doesn't stop there. Wales can't prosper while the valleys struggle so now is the time support the area with a genuine mix of exciting opportunities allowing people to get on without having to get out. Major projects like the South Wales METRO, for instance, should be maximised with a headquarters located in the valleys.