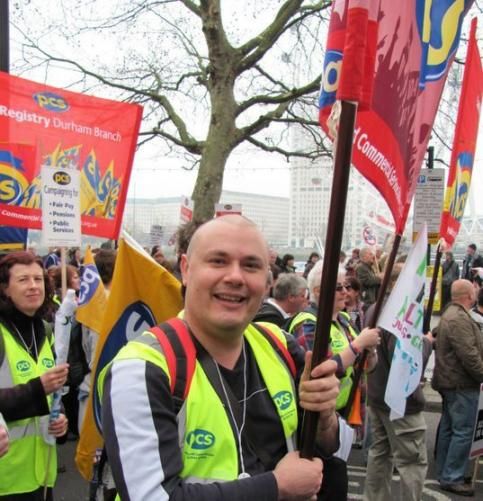 Your Name: John Coote
Name of Course: Advanced Organising Certificate
Course Dates: Feb 14 – June 14
Your union: PCS Union
Your role: Organising Industrial Offices
---
Please describe your experience of the Organising Academy programme:
Having been working at PCS for over 10 years in various organising and negotiating roles, I felt that I was regurgitating the same tired methods to recruitment, organising and campaigning. We are facing a huge threat through the potential widespread withdrawal of check off from large sections of our membership and I wanted to make sure I had the latest tools, techniques and latest thoughts on strategy to help me, the lay reps and our officers through what will prove a very challenging time.
Critically examining different organising methods and looking at the success and failures of past campaigns has really helped hone my own thinking. When examining the various organising methods it was clear that I could adapt them to complement different styles of campaigns. I had only really focused on issue based organising before, which is a tried and trusted method. Now though, I have begun to advise more on community organising in order to apply leverage on a key person to achieve the goals laid out in the campaign. Being able to share experiences and knock around ideas has proven to be invaluable in helping me decide on key focus points and strategies and I have forged some amazing contacts and friendships on this course. .
The most immediate change has been to warm up our emails. Emails that I send now are short, snappy and relevant containing a simple task to do. Gone are the days of lengthy tomes which no one even read. Additionally, before any email is sent out, a warm up exercise has now been agreed with our lay reps. Open and click through rates have increased hugely as a direct consequence of this simple change.
Do not be afraid to come on the advanced organising certificate. It's hard work, but it will genuinely help you in your job. You will study with people doing a similar role as you but in different fields and you will gain the confidence to take the lead and assume responsibility. The rewards are worth all the effort and you will mentally be invigorated to tackle strategically the challenges that face you and your members.
Issued: 8 August, 2014