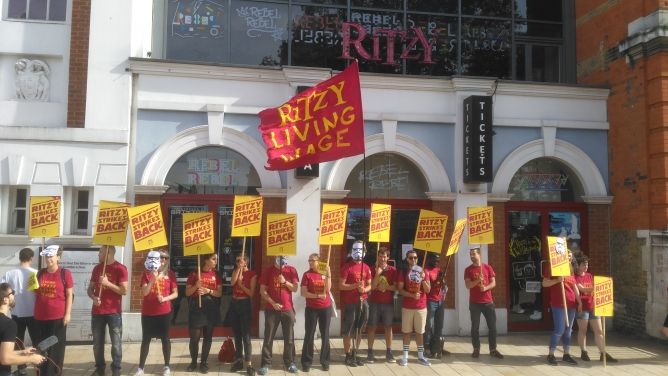 BECTU members at 'The Ritzy Cinema' in Brixton were on strike 24-25 September 2016 seeking fair pay, decent terms and conditions of employment and a commitment from their employer to negotiate with them as responsible trade unionists. In a ballot 93 per cent of members voted to take strike action in support of the claim for the London Living Wage and for improvements to other key terms, including sick and maternity pay.
A prolonged campaign by BECTU members in 2014 won a significant pay rise for workers at 'The Ritzy'. Their employer, Picturehouse Limited, which is owned by Cineworld, also promised to open negotiations in June 2016 about pay rates for 2016-2017, with a view to paying the London Living Wage. Presently, the minimum rate of pay at 'The Ritzy' is £8.80 an hour, which is less than the London Living Wage of £9.40 an hour. And the Mayor of London will announce an increase in the London Living Wage in November, so some workers at 'The Ritzy' will then fall even further below the decency threshold. Picturehouse Limited rejected BECTU's pay claim, declined to negotiate with BECTU and declined an offer to go to ACAS, the conciliation service, to discuss a way forwards.
BECTU's Assistant General Secretary, Luke Crawley, said: "BECTU has tried to talk to Picturehouse Limited but the company is being very hard faced in ignoring our pay claim. Union members at 'The Ritzy' have shown how strong they can be when working together. No one wants to go on strike and we would rather settle this by talking, but the company has ignored our offer."
BECTU members are also asking for sick pay for all workers at the cinema, a company level agreement about maternity pay, paternity pay and fair pay rises for managers and technical staff, such as sound technicians and projectionists.
Members at a sister site, the 'Hackney Picturehouse', are also being balloted for industrial action in support of the same terms submitted at 'The Ritzy'. That ballot there closes on 6 October and coordinated action across both sites is probable if the employer continues to resist calls for negotiation. BECTU says that unrest is also growing at other Picturehouse venues.
SERTUC visited the picket line and protest on Saturday 24 September to extend our solidarity greetings. The protest was colourful, confident and full of hope, and the support from the community was vibrant too. BECTU members at the cinema were confident that their demands are just, and the foundation for decency at work. And they were adamant that trade unionism, organising, a strong collective spirit and collective action if necessary, are the only route to respect at work for all workers at 'The Ritzy Cinema'. They are a force to be negotiated with, and not ignored.
Follow the campaign at:
https://www.facebook.com/RitzyLivingWage
@RitzyLivingWage
You can email Cineworld and Picturehouse Limited to support the BECTU strike at:
Supporters can donate to the strike appeal at: paypal.me/ritzylivingwage
Laurie Heselden @TUCLaurieHeseld
Megan Dobney @mdobney
Issued: 27 September, 2016