Bognor Regis FC deservedly shunted Dulwich Hamlet FC into a 1 - 3 reverse, which was a set-back for our generous hosts and the many trade unionists who swelled the 2,217 crowd on Saturday, especially those who are committed republicans. This was the largest attendance for any Ryman's Premier Isthmian League game this season. At least Bognor, West Sussex, is in the SERTUC region, so whichever team won the football match, SERTUC could not lose.
But the trade union day, which was sponsored by ASLEF and Hope not Hate, with the International Brigade Memorial Trust as a beneficiary, was a great success.
There were many trade union banners and flags on display including a great display of ASLEF banners, IBMT, Southwark UNISON, SERTUC, TSSA and UNITE.
The International Brigade Memorial Trust, which commemorates the brave women and men who went from Britain, Ireland and elsewhere, to defend the democratic Government in Spain against the forces of Fascism in the 1930s, distributed hundreds of leaflets and magazines.
Kick Racism Out of Football had a banner and Hope not Hate representatives were there to promote their message. Steve (Bubbles) Mills, a long-standing TUC colleague and an expert of non-league football, can be seen leaning on the KROoF banner (below).
Steve is looking very relaxed because he had been enjoying Brigadista Ale, a splendid real ale that has been brewed to commemorate the 80th anniversary of the beginning of the Spanish Civil War, which SERTUC highly recommends.
The trade union day was timed to coincide with the celebrations to mark the 80th anniversary of the Battle of Cable Street, when the ordinary men, women and children, alongside Jewish and Irish activists, trade unionists and communists, stopped Oswald Mosely's Fascist blackshirts marching through their community in the East End of London. 'No pasaran' was the community's message to the British Union of Fascists then, and it still inspires us today.
It is great to celebrate trade union traditions in a modern community setting so hopefully ASLEF's fine example will be followed, and other TUC affiliates will sponsor trade union days.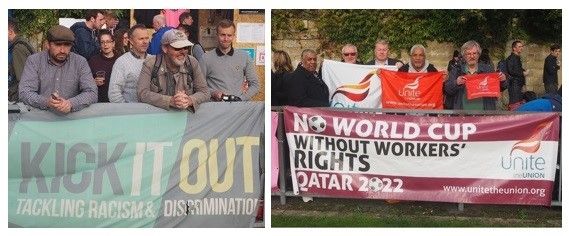 www.aslef.org.uk and @ASLEFunion
http://brigadistaale.co.uk/international-brigade-memorial-trust and @BrigadistaAle
http://www.hopenothate.org.uk/
http://www.international-brigades.org.uk/ and @IBMT_SCW
http://www.dulwichhamletfc.co.uk/ and @DulwichHamletFC
http://www.pitchero.com/clubs/bognorregistownfc and @rocks1883

Laurie Heselden @TUCLaurieHeseld
Megan Dobney @mdobney
Issued: 11 October, 2016