Resources
You can help spread the word by contacting your MP, local media, sticking up posters or distributing flyers. We've produced downloadable resources for unions and supporting groups to print and share. They're Adobe PDF format files, with professional versions if you're taking them to a print company to produce. You can download them individually from the resources menu on the right or in one single ZIP file.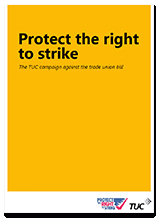 CAMPAIGN BRIEFING
The TUC have produced a campaign document to help you campaign to protect the right to strike. It contains
- information about the proposed trade union bill
- hints and tips on how to argue against the bill
- timeline of events
​- suggestions on how you can take action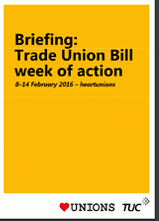 Heartunions week materials
heartunions week is a week of action against the trade union bill, running from 8-14 February 2016. To help unions and branches get involved, we've prepared downloadable materials and guidelines, which you can access via the heartunions week site at heartunions.org

RUN A STALL OR EVENT
If you want to make sure that local people or other workers in your workplace know about the threat to the right to strike, why not put up some posters or organise an event to hand out leaflets in your branch or local area? You could even run a stall and gather petition signatures, or decide to run a public meeting.
When's the deadline?
There isn't one – you can do this throughout the campaign.

threat to safety reps – get the message out there!​
What the government is completely ignoring is the real problem at work, which is not the 0.8 million days lost through strike action but the 28.2 million days lost every year through injuries and injuries that are caused by work.
​​​These are all preventable, and the best way to prevent them? Having trade union health and safety representatives in the workplace. Union health and safety representation halves the number of serious injuries. It is therefore mindboggling that the Government are trying to restrict the ability of union health and safety representatives to do their work by telling employers in the public sector that they must cut back on the time that representatives are given to undertake inspections, meet with employers, and help protect everyone in the workplace (whether they are a union member or not).​
We have produced a simple "infographic" that illustrates the government approach. It comes in various forms for use in social media or simply print off and put on a notice board.