Social Issues
Activist Resources
This guide is aimed at trade union reps and members
A 3-part handbook with practical guide to taking action in
Society and Welfare blogs
The TUC believes in full employment and work for all those who want it, but those who cannot work should get decent benefits that lift them out of poverty. Here is research and policy on welfare and work issues. You can find older material by using the search facilities.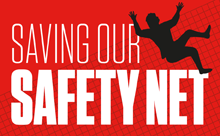 Saving Our Safety Net is a campaign we will run through the coming months, highlighting the government's welfare reforms that take away the safety net workers have been paying for through taxes and National Insurance Contributions. We'll also be highlighting the cuts that take away benefits and tax credits that help workers and their families survive the misery of low pay.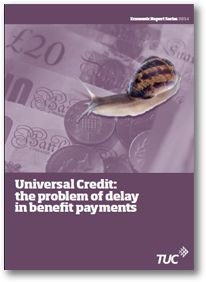 Saving Our Safety Net is based on research into what workers believe about the benefit system and the ways they think it should change. This research has found that, although there is widespread concern that it can be too easy to abuse the social security system, workers still support the principle of paying in from their wages to make sure there is a safety net if they fall on hard times through no fault of their own. Download Universal Credit: Solving the problem of delay in benefit payments [PDF]
The right to strike is under threat. Frances O'Grady explains why in this short video. ​TRADE UNIONS BILL: UNFAIR, UNNECESSARY AND UNDEMOCRATIC We will oppose these draconian proposals. Our country has a proud tradition of liberty and democracy – and trade unions are central to that. Read the full blog
Commenting on reports today (Tuesday) that the government is considering a four-year ban on tax credit qualification for new migrants that would not only affect migrants, but also young working families, care leavers and disabled people, TUC General Secretary Frances O'Grady said: "Young working families should not have their support...
The government's Trade Union Bill wants to empower "A Minister of the Crown" to cap the time and resources available to union reps in the public and private sectors sector to represent their members effectively. Yet growing awareness of the impacts of climate change on our daily lives has spurred...
Are you struggling to pay your bills due to irregular hours and low pay? Are you finding it hard to get affordable childcare? Have you experienced discrimination in the workplace? The TUC want to hear from people who have jobs with these kinds of problems. This is to help us...
A TUC briefing on the Bill that effectively aims to abolish the Child Poverty Act.
The Wales TUC written responses to consultations are available from this section If you would like to find out more about any of these responses, or other consultations that may not be listed here, please contact the Wales TUC by emailing
[email protected]
or calling 02920 347010
Commenting on the Welfare Reform and Work Bill, which receives its Second Reading in the House of Commons today (Monday), TUC General Secretary Frances O'Grady said: "The government has finally listened to trade unions that wages should be higher. But that doesn't justify the cruel and unnecessary cuts to tax...
Commenting on the Summer Budget analysis published today (Thursday) by the Institute for Fiscal Studies, which confirms that the Budget is highly regressive, TUC General Secretary Frances O'Grady said: "A higher minimum wage will bring gains for some, but for many working families the Budget is a wolf in sheep's...
Responding to reports today (Tuesday) that the government is considering an extension of Sunday opening hours for large retailers, TUC General Secretary Frances O'Grady said: "Turning Sunday into another Saturday for major retailers would take precious family time away from shop workers. There is no pressure for this from shoppers...
"Reforms to Universal Credit" is a new report, published by the TUC and the Child Poverty Action Group, showing that far more child could be lifted out of poverty by enhancing Universal Credit instead of raising the income tax threshold - and at a fraction of the cost. The report,...
Pages