Social Issues
Activist Resources
This guide is aimed at trade union reps and members
A 3-part handbook with practical guide to taking action in
Society and Welfare blogs
The TUC believes in full employment and work for all those who want it, but those who cannot work should get decent benefits that lift them out of poverty. Here is research and policy on welfare and work issues. You can find older material by using the search facilities.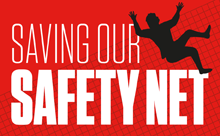 Saving Our Safety Net is a campaign we will run through the coming months, highlighting the government's welfare reforms that take away the safety net workers have been paying for through taxes and National Insurance Contributions. We'll also be highlighting the cuts that take away benefits and tax credits that help workers and their families survive the misery of low pay.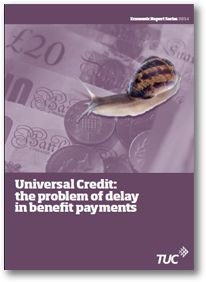 Saving Our Safety Net is based on research into what workers believe about the benefit system and the ways they think it should change. This research has found that, although there is widespread concern that it can be too easy to abuse the social security system, workers still support the principle of paying in from their wages to make sure there is a safety net if they fall on hard times through no fault of their own. Download Universal Credit: Solving the problem of delay in benefit payments [PDF]
"The TUC is deeply concerned that this measure will undermine housing associations and their important role in providing families with affordable homes. Housing associations fund new homes by borrowing against their existing stock, but if the government forces them to sell homes at a discount then it will cost more...
Responding to the Queen's Speech today (Wednesday), TUC General Secretary Frances O'Grady said: "Working people will be worried by a Queen's Speech that declares open season on so many of their rights and protections.
The General Secretary of the TUC, Frances O'Grady, will today (Thursday) address the opening day of the TUC's annual Disabled Workers' Conference at Congress House, London. The conference will be attended by 200 disabled trade union delegates and will debate policies and priorities for the TUC on disability issues.
The TUC is today (Thursday) publishing a new poll, conducted for it straight after the election by Greenberg Quinlan Rosner, which reveals voters feeling about Labour, the Conservatives and key election themes and policies. The poll's findings underline the difficulties Labour now faces, and provides a rich source of information...
Commenting on today's (Tuesday) new house price data from the Office for National Statistics, which shows an annual increase of 9.6 per cent compared to just 2.2 per cent for wages, TUC General Secretary Frances O'Grady said: "House prices are going up four times faster than people's wages. No wonder...
In a statement issued today (Friday), TUC General Secretary Frances O'Grady said: "We have to hope that David Cameron's pledge to govern as a one nation Prime Minister will be his first major U-turn - for his campaign and manifesto was anything but.
Responding to new Land Registry figures published today (Thursday) that show the volume of house sales has been falling sharply, with the January total 18 per cent lower than the previous year, TUC General Secretary Frances O'Grady said: "The need to put down high deposits, combined with a slow growth...
The publication today (Tuesday) of analysis by the Institute for Fiscal Studies (IFS) of tax and benefit proposals by the main parties shows how severe and painful the impacts will be of extreme Conservative cuts for low-paid families with children, says the TUC. TUC General Secretary Frances O'Grady said: "The...
New figures released today (Wednesday) by the Trussell Trust, which show that demand for food aid is still growing, are a sign of a weak economy for wages and damage to welfare, says the TUC. TUC General Secretary Frances O'Grady said: "This should make all of us ashamed, particularly those...
Our Lives: challenging attitudes to poverty in 2015 is a report about poverty in modern Britain, launched on 17 April by an independent group of women authors, including TUC General Secretary Frances O'Grady. The report responds to Bob Holman's challenge to update the Our Towns poverty report published in 1943...
Pages