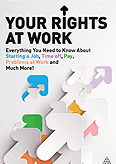 This jargon-free guide to the legal rights of the employee and the responsibilities of the employer is written by employment experts at the TUC.
The 5th edition (2016) contains new information on parental and adoptive leave, zero-hours contracts, and grievance procedures. All the original material, which included contracts of employment, working time, dismissal, health and safety, bullying, wages and discrimination have been updated.
'Every worker has something to gain from dipping into this simply written guide.' The Observer.
For bulk orders please download the order form.