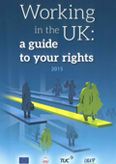 Published By:
http://www.migrantinfo.eu
These booklets for migrant workers in the UK give information on essential UK employment rights in seven language editions: English, Polish, Romanian, Bulgarian, Lithuanian, Spanish and Hungarian.
They have been produced in partnership with union centres LIGA in Hungary and Cartel Alfa in Romania, with financial support from the European Union.
Prices per copy for these 16-page, A5 size publications are:
1 to 10 copies free;
11 to 100 copies 12p each;
You can mix and match the languages.
Please complete this form and email back to [email protected], or print out and send to: TUC Publications, Congress House, Great Russell St., London WC1B 3LS.