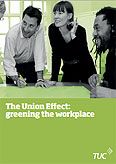 This report presents the experiences of six organisations which have made a serious effort to lessen the impact of their operations on the environment and, in particular, to reduce their carbon footprint. It looks at the measurable progress that has been made, and the role of unions in that progress.
The six case studies cover the public and private sectors, as well as a range of industries:
Allianz Insurance: a financial services company
Defra (York): a central government department
EDF Energy: one of the big six energy companies
Furzedown Low Carbon Zone: a community project based on a further education college
Great Ormond Street Hospital, an NHS Trust
The Port of Felixstowe, the largest in the UK.
Download The Union Effect: Greening the workplace [PDF]