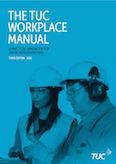 Format:
A4 176 pages Square bound Soft back
After the success of the first edition back in 2012, the TUC has revised this popular manual to include recent legal changes in employment law and employee rights.
Invaluable not only for for stewards, equality, green or health and safety reps but for anyone who represents, advises or supports members.
A4 square bound 176 page single volume soft-back features extensive checklists, web resources and case studies. Every rep will find the TUC Workplace Manual invaluable, and every rep will appreciate the wealth of practical advice and knowledge in this book.
Bulk price discounts available as well as for students on TUC approved courses, please call or email for prices.
0207 467 1294