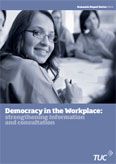 This paper argues for a strengthening of the Information and Consultation of Employees (ICE) regulations in the UK. Specifically, it argues that the rule requiring 10 per cent of employees to request information and consultation, the so-called trigger mechanism, should be replaced and information and consultation procedures must be available in law if a minimum of five employees request them, or if requested by a trade union.
It also argues that a basic constitution for works councils and their operation should be established in law and that this constitution should only be amendable in order to strengthen it. It sets out a number of other ways that UK regulations need to be strengthened, including ensuring that part-time workers have equal rights to those contracted to work more hours and that employers who fail to comply with the regulations face substantially increased sanctions.
'Democracy in the Workplace' presents evidence from France, Sweden and Germany. Union reps and managers from companies like Husqvarna, which makes power tools, the defence company Saab and the insurance firm AXA, testified to how stronger information and consultation can boost decision-making. As David Tornadre, Senior Executive Vice President of the French multinational Thales told us, worker reps put the "people dimension" into decision-making.
Download Democracy in the Workplace [PDF]