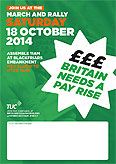 To publicise the march and rally in London on October 18, the TUC has produced a campaign poster for you to use and distribute.
For orders more than 500 please email [email protected] .
If you wish to print your own posters, a range of versions are available for download from the links below.
You can also order or download campaign leaflets from the online shop.
Downloads
Download A4 greyscale poster suitable for desktop printing
Download A4 colour poster suitable for professional printing
Download A4 greyscale poster suitable for professional printing