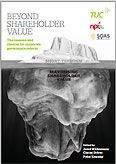 Format:
A$, 88 pages, 250mm x 180mm
​The TUC book Beyond Shareholder Value: the reasons and choices for corporate governance reform is a collection of essays by authors from the City, politics, unions and academia, making the case for reforming the UK's corporate governance system, which many believe is letting down businesses and the wider economy.
The book includes 17 essays from organisations ranging from the Institute of Directors to the Fabian Society and the TUC. Other authors include Patrick Diamond from Queen Mary University, Vicki Pryce from the Centre for Economics and Business Research, Andrew Smithers from Smithers & Co Ltd and economist and author John Kay.
Download Beyond Shareholder Value: the reasons and choices for corporate governance reform [PDF]