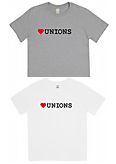 Produced for ♥UNIONS week. A range of good quality t-shirts in kids' sizes, white or grey cotton. All with the red and white campaign branding on the front.
Sizes include: 5-6 yrs, 7-8 yrs, 9-10 yrs, 11-12 yrs
Order your t-shirts by selecting the quantity you require and pay online. Alternatively you can download the order form and email back to [email protected].
Price: £8.50 including post & packing.