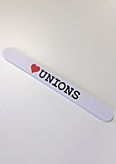 Produced for ♥UNIONS week. A large size emery board printed both sides in the red, black and white branding of the campaign.
Price including P&P £8.50 for a pack of 10.
Order your emery boards by selecting the quantity you require and pay online. Alternatively you can download the order form and email back to publications@tuc.org.uk, or print out and send to: TUC Publications, Congress House, Great Russell St, London WC1B 3LS.