​The countdown has begun; we're less than a week away from the national demonstration in Manchester. The march looks set to be a massive event, are you ready?
Updated route map
An updated map is now available for download. It contains march route, rally location, form up points, coach pick-up and drop-off points, toilets and first aid points.


Getting to the rally
We've added more coach information to the map on the website. There are coaches coming from all across the UK. If you're unable to find a coach near you please contact us and we'll try and put you in touch with an organiser.
Find a coach near you
Update on accessibility
Due to the size of the event and ongoing transport infrastructure improvements there will be limited access to vehicles in the city.
This is mind, we have made arrangements for those who wish to:
attend the pre-march rally
attend the pre-march rally and then move to the short march access point
join the short march
Stewards needed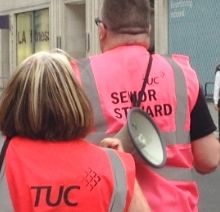 The safety and success of the event will not only depend on the numbers attending but ensuring we have an adequate number of stewards to cover the march and rally.
If you would like to volunteer to be steward, we'd love to hear from you. Please let us have your details and we'll be in touch.
A stewards breifing will take place at 10.15 am on 4th October
Keep spreading the word
We want to make sure the government hear us loud and clear, so keep spreading the word. Tell your friends to come and join you on the march by taking a minute to share this graphic on Facebook and Twitter.
Issued: 29 September, 2015