Migration
Activist Resources
The TUC guide on your rights at work in the
This interactive guide (eNote) is a short, self-study module about
The TUC has produced a guide to assist union workplace
Migrant workers make up a significant proportion of the UK's labour force. The TUC supports the freedom of movement of workers in the European Union and we support a managed migration system for those outside the EU, based on the principles of workers' rights.
Once in the UK, many migrant workers are unaware of their legal rights or unable to enforce them and face exploitation at work as a result. The TUC fights for equal rights for migrant workers, and assists unions to recruit, represent and organise migrant workers.
The Health and Safety Executive (HSE) and the TUC have published a new safety leaflet, ['Your health, your safety: A guide for workers'] provides information about safety rights at work which is translated into 19 different languages.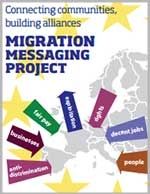 Connecting Communities: Building Alliances ​[PDF] a report on the TUC Migration Messaging project to promote progressive messages on migration.
---
Pages