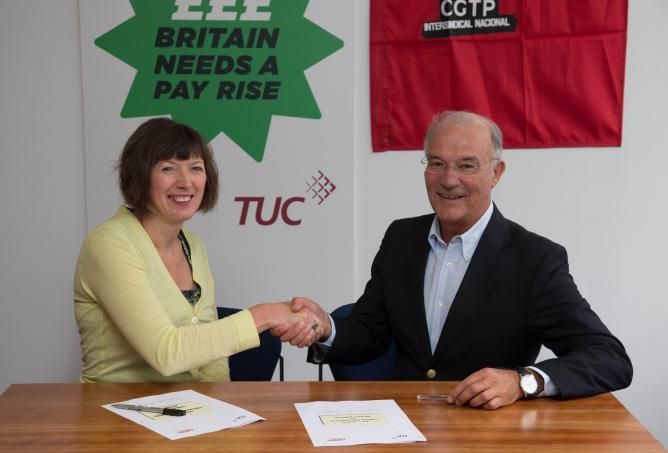 On Thursday 28 August, the TUC signed a renewed co-operation protocol with the General Confederation of the Portuguese Workers (CGTP-IN), to help Portuguese-speaking migrant workers in the UK join unions and claim their rights at work.
The General Secretary of CGTP-IN Armenio Carlos travelled to London to sign the protocol with TUC General Secretary Frances O'Grady at Congress House.
The signing was also witnessed by Fernando Mauricio, Head of CGTP-IN International department; Carlos Trinidade, CGTP-IN Executive Committee member; Mohammad Taj, TUC General Council member for migration; Owen Tudor, Head of TUC International department; Megan Dobney, Regional Secretary, TUC Southern and Eastern Region and Rosa Crawford, Policy officer for migration, TUC International department.
The protocol reaffirms the commitment of unions in Britain and Portugal to work together, in association with the Portuguese-speaking community in Britain, to organise migrant workers, prevent their exploitation and the undercutting of existing workers' wages. The new protocol covers both migrants from Portugal and Portuguese speakers from non-European countries, such as Angola and Brazil, who are working in the UK.
Over 50,000 youngsters emigrated from Portugal in 2012, mainly because of high unemployment and lack of job opportunities there, says the TUC. Many will have come to Britain, and to London in particular, as the capital already has a large Portuguese community. According to recent census data the number of Portuguese-born people living in the UK has more than doubled over the last decade to 88,161.
The protocol is available in English and Portuguese to download, below.
The press release for the protocol signing is here.
Issued: 28 August, 2014