It is time for BBC Management to 'make the grade' and recognise the work and status of NUJ members working on the BBC's Parliament Channel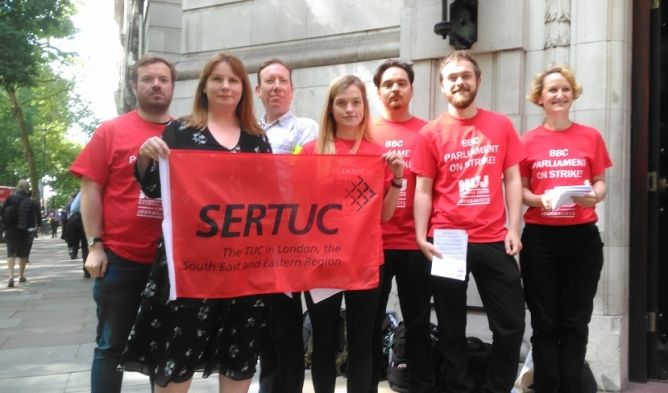 NUJ members who work on the BBC Parliament Channel are on strike today (15 June 2016), in a dispute over the recognition of their contribution to the channel, recognition of their status and recognition of their skills, by BBC management.
SERTUC visited the NUJ picket line this morning, outside the BBC studios on Millbank, a short distance from the Houses of Parliament, to offer our best wishes and solidarity greetings to NUJ members who are on strike. Michelle Stanistreet, NUJ General Secretary, and the strikers, were delighted, and were pleased to display a SERTUC flag for photographs.
The strikers say 'We really regret being compelled to take this strike action. We love our channel. We want it to be even better and to grow. But we want our journalism to be recognised and valued by Management. This is not about pay, it is about respect at work'.
BBC Parliament is a 24 hour channel and it is part of the BBC's News Division. Most of the output of the Parliament Channel is produced by Grade 5 Broadcast Assistants. Yet, nowhere else in the entire BBC are there any other Grade 5 Broadcast Assistants who have 'editorial responsibilities'. And during Parliamentary Recesses, Grade 5 Broadcast Assistants from the Parliament Channel work alongside colleagues on the News Channel and World News, writing, editing and producing content. But those colleagues are Grade 7. The unfairness is obvious and it is time that the BBC fixed the anomaly.
NUJ membership at the Parliament Channel is 100 percent so NUJ reps have clearly done a fine organising job. And there was 100 per cent turn out in the ballot for industrial action and 100 per cent support for strike action, which is interesting in this post Trade Union Act age.
The strike is a one day strike, 15 June 2016.
Megan Dobney, SERTUC Regional Secretary, sent a message of support on behalf the SERTUC Executive Committee and Laurie Heselden, Regional Campaigns and Policy Officer, visited the picket line.
Messages of support can be sent by unions to Sara Kavanagh at: [email protected]
Follow: #bbcstrike #nuj #nujofficial
Laurie Heselden
Megan Dobney
Issued: 15 June, 2016