15 December 2016
- New regional data for 'Gross Value Added' (GVA) shows a huge gap between the capital and other regions
- Gap must be addressed by forthcoming industrial strategy, says TUC

New data published today (Thursday) by the Office for National Statistics shows the extent of regional economic inequality in Britain, especially between the capital and the rest of the UK, says the TUC.
Gross value added (GVA) – an official measure of the income generated by economic activity – is now £43,629 per capita in London, which is more than double the average of just £21,638 across the rest of the UK.
The figures show that the gap has grown across the last decade, as shown in the chart below which gives the ratio of GVA in London to GVA in the rest of the UK from 1997 to 2015.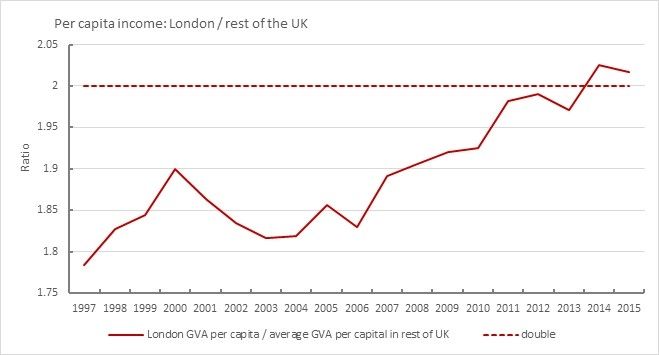 The TUC says that the government must urgently address the gap with its industrial strategy, which is expected to be published early next year.
TUC General Secretary Frances O'Grady said:
"People in every part of Britain need a strong local economy, generating good jobs and improving living standards. But there is a huge gap between London and other parts of the UK.
"For decades now, successive governments have failed to invest enough outside of the capital. We urgently need a proper industrial strategy that reaches every community. With Brexit on the horizon, it's all the more important that we speed ahead with the investment needed to give every part of Britain decent jobs and strong industry.
"That means putting major investment into modern infrastructure like rail, roads, news homes and clean energy. And it must be targeted at communities that have been abandoned after the loss of traditional industries, and where too many jobs are insecure and low paid."
ENDS
Notes to Editors:
- GVA per head for UK regions and nations in 2015 (ONS)
| | |
| --- | --- |
| UK region/nation | GVA per head, £ (2015) |
| North East | 18,927 |
| North West | 21,867 |
| Yorkshire and The Humber | 20,351 |
| East Midlands | 20,929 |
| West Midlands | 20,826 |
| East of England | 23,970 |
| London | 43,629 |
| South East | 27,847 |
| South West | 23,031 |
| Wales | 18,002 |
| Scotland | 23,685 |
| Northern Ireland | 18,584 |
| UK excluding London | 21,638 |

- All TUC press releases can be found at tuc.org.uk/media
- TUC Press Office on Twitter: @tucnews
Issued: 15 December, 2016