On May 1st SERTUC Supported the London May Day Rally, this year was a special tribute to Tony Benn and Bob Crow, estimates state close to 10,000 people turned out to march in commemoration and solidarity. There was a great turnout and a number of inspirational speakers, one of which was a previous delegate to SERTUC young members network, Lucille Harvey. Lucille, a young Unite member spoke passionately about the situation facing young people in the UK today and called for action and support from the trade union movement to prevent a lost generation.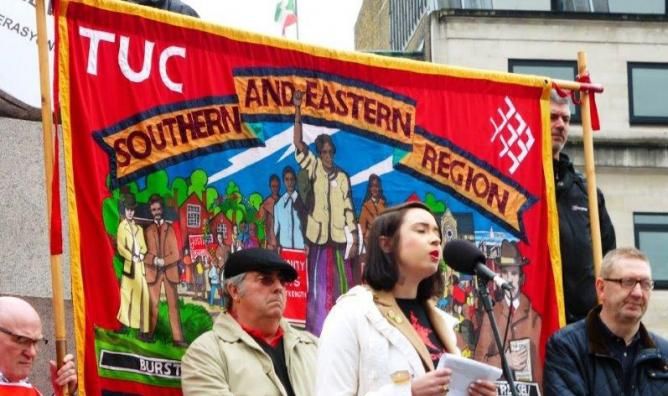 Lucille Harvey speaking at the May Day Rally 2014 'Let May day Be Our Inspiration: Let Us Rise!'
Young working class people in the UK are under attack. In 2010 when this government came to power they said they needed to tackle the deficit straight away to prevent shackling future generations with debt. But the hard reality is that this government's austerity programme is killing our life chances now.
EMA scrapped. Youth Services slashed. Tuition fees trebled. Housing benefit for under 25s gone. Careers advice services cut. Forced unpaid labour through Workfare. And an unprecedented youth unemployment crisis with one million young people out of work and one in five looking but unable to secure employment.
They are balancing the books on the backs of Britain's young people and damning our futures in the process. We are in danger of becoming a lost generation.
Things don't have to be this way. This crisis that Britain's young working class find themselves in is not inevitable, it's man-made. A series of bad political decisions, by a government that prioritises protecting bankers' bonuses over Educational Maintenance Allowance for the UK's poorest students, created it. But we can change it, if we are not despondent.
Today we remember two great comrades: Tony Benn and Bob Crow. Both men of action. Tony Benn once said:
"Hope is the fuel of progress and fear is the prison in which you put yourself."
Benn was a firm believer that real change could only come from below and that apathy of working class people, encouraged by those in positions of power, was the enemy of social progress. He told us to take courage in working peoples' struggles for change that went before: the fight for the 8 hour working day, the end of child labour, votes for women and the breaking of apartheid in South Africa. Just yesterday here in Trafalgar Square thousands of South African expats queued for hours to cast their votes in free and fair elections for a democratic South Africa. The greatest of tributes to another much missed comrade, Mandela.
All of these struggles had seemed impossible until they were won.
In tribute to Tony & Bob, we should heed their calls for action. As young people, we must get engaged and organised. We need to join trade unions, be politically active and encourage our friends and colleagues to do the same.
But the responsibility doesn't lie solely with us. We need solidarity and support from older comrades in our movement. This politically motivated onslaught against Britain's young working class is an attack on our class as a whole. If they bring young working class people to their knees today, who will be there to fight for our class tomorrow? So our response can be no less: a fight back by all of Britain's working class. Young and old standing together, united in solidarity.
We especially need support and solidarity from our Trade Unions. We need our unions to:
Respect the young members currently active in their structures and the contributions they bring to their unions.
Actively reach out to new young workers in ways that resonate with young people.
Organise in the places we work: retail, food and accommodation services, private sector companies. All of which currently have low union density.
Update industrial strategies to reflect the changing nature of the UK's labour market as many of us work in places where no union is recognised at all.
And lastly we need our trade unions to educate and train young people to become strong activists for today and for the future.
International Workers' Day is the day we celebrate the struggles comrades before us fought and won against the Establishment. Our history shows us that by standing together in solidarity, we can secure a fairer more equal world for working people.
As we leave today, let's take with us the words of that great working class hero James Larkin:
"The great appear great because we are on our knees. Let us rise!"
Issued: 9 May, 2014