MARY MACARTHUR LECTURE
Ros Wynne Jones
17 March 2017
First of all I would like to thank you for having me here today. Thank you for coming out on St Patrick's Day.
Since January, as well as writing the Real Britain column at the Daily Mirror I have also been working on the Wigan Pier Project, where we are recreating George Orwell's 1936 journey across Britain, reporting – as he did – the struggles of everyday people along the route.
So, I have been getting to know Birmingham and the Black Country much better, where Orwell started his journey. We've recently been in Wolverhampton and Walsall, in Stourbridge and the beautiful Clent Hills just a few miles from here, where the writer stayed in a youth hostel and walked the fields.
Orwell talks about the birdsong, but never mentions the chainmakers or the nail-makers or miners of the Black Country. He thought poverty started here of Birmingham in Stoke-on-Trent. But missing out the chainmakers is a pity on two fronts. Two valid criticisms of his ground-breaking book are that it doesn't speak enough about women's struggle, and that it doesn't show enough of working people fighting back.
Eighty years on, for the Wigan Pier Project, those are two aspects we hope to keep central to our work – so it has been fantastic meeting women workers and trade unionists today in the Black Country.
**
And, what an absolute honour it is to be standing here in the name of Mary Macarthur – a woman on whose shoulders we all stand in the on-going fight for social justice, fair pay and equality.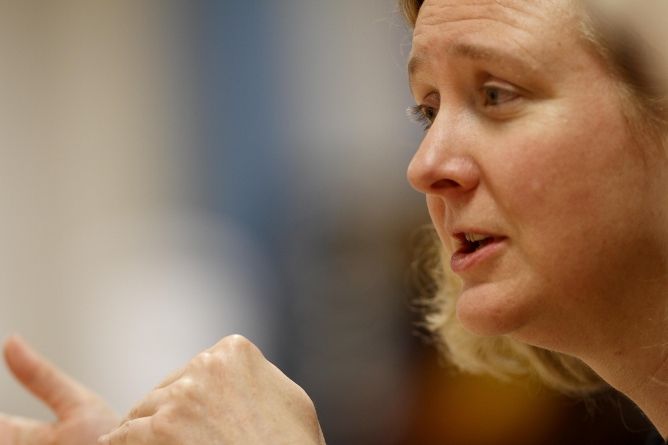 And, before we go any further, it's important to acknowledge it's not just Mary's shoulders we stand on, but the shoulders of every one of the women chainmakers at Cradley Heath who fought for a minimum wage.
Working class women who stood to lose everything by going out on strike and travelling to London to demand the support of the wider trade union movement.
I'd like to dedicate this lecture to those women as well.
It's hard to imagine the conditions those women were working in at the turn of the last century. Mary Macarthur described the sight of the chainmakers lit by the red glow of the forges as "like some torture chamber of the Middle Ages".
Listening to the women speak in the brilliant 1976 documentary we watched this afternoon, it's hard to imagine having shared a century with their experience as British women.
Women earning a half-crown a week working 12 hours a day over the fire, their sweat "coming off the rollers". Girls who started work as 13-year-old children.
Women carrying iron on their shoulders up Cradley Hill. Women who went blind working with metal and fire, and who were described as emaciated and haggard from the burden of the physical work, and from years of chronic hunger.
1,000 tons of chain were forged in the Cradley Heath District each week – some of which went to support a different kind of slavery abroad. Slaves making chains for slaves.
The chainmakers were forced to bring their babies to work four days after birth, left in a bucket with a piece of flannel. History records that the burial pages were always full of their children who had died at a few weeks' old.
Yet they were also women of few words. There is a generation's pain in one woman's quiet complaint in that film, that "I was always ashamed of my hands".
They were known as the Amazons of the Chainyard and it was said that after "doing a man's job, they drank a man's share of beer.
I imagine there's even a few women like that in Cradley Heath today. Certainly that's what I do when I finish my man's job as a newspaper columnist.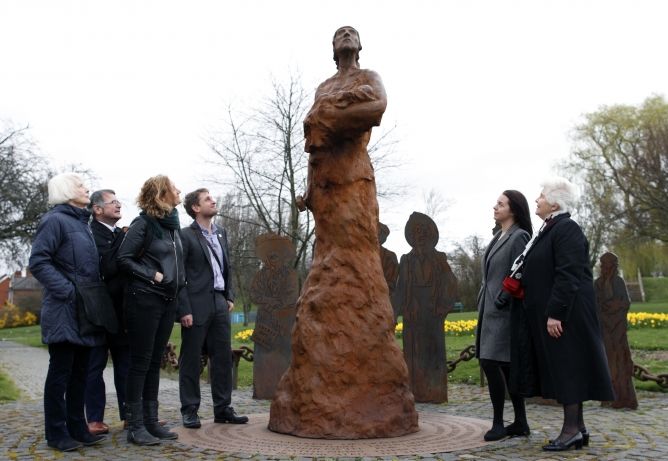 **
I would like to say that there is no work like that today in the United Kingdom. That 107 years later we have made such great progress that these things are unimaginable.
We have made huge progress – thanks to women like Mary Macarthur, and in many ways, even braver, those women she persuaded they had nothing to lose but their chains.
Thanks to them, we have a minimum wage – the first deal ever struck. Not just struck but bitterly fought for. When the chain-makers' bosses tried to cheat the women out of a pay-rise so they could stock pile chain ready to lay them off, Mary led the women through 10 hard weeks of strike – supported by trade union and socialist allies.
These were women who some people had dismissed as 'unorganisable' because they worked in backyard forges, sometimes with only two people to a forge.
They won a 100 per cent pay rise.
When they won, it was a victory for all of us who benefit from and whose families and communities benefit from a minimum wage.
As Frances O'Grady said in the inaugural Mary Macarthur lecture, "when working class women rise, we all rise".
So, we can't lose sight of this progress. That's something we are too guilty of on the left – not celebrating the incredible progress our ideas, and our risks, and our hard work has made.
And we also must remember the Mary Macarthur's of today – many of them in this room. She would definitely have loved the new BOSS class – the Birmingham Organised Sisters Society, who I met today.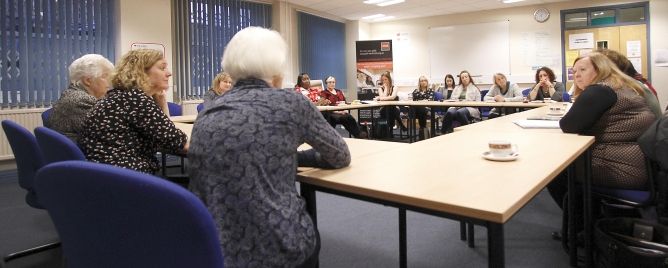 Because the women I met in Cradley Heath and Halesowen today told me they are still fighting.
Not for a minimum wage, that thanks to their forbears is guaranteed by law, but for enough hours to put food on the table. For the right not to be sacked just because their kids are ill. For decent housing and the support of the welfare state when they are not fit to work.
For the right to be treated with basic respect when they are doing some of the most important jobs in the country, caring for our elderly, sick and disabled.
Interestingly, from the child poverty figures released this week, while London remains the area with the highest child poverty rate, if you take out housing costs, the West Midlands is joint top of the table.
In 2017, there are other forms of starvation wages.
We've gone from the 'Amazons of the Chain Yard' to the chainmakers of Amazon – where big business has found new ways to exploit workers and evade the taxes that support the welfare state – so doubly attacking our society.
On our Wigan Pier journey, and writing the Real Britain column at the Daily Mirror, I often cover stories with deep echoes of the chainmakers' struggles – stories that are even more shocking in a society which thinks of itself as far more advanced than that of 1910 and which is far more wealthy.
Stories of klaxons going off that tell workers they aren't picking goods fast enough. Workers being named and shamed over the tannoy, refused toilet breaks and searched and humiliated, and locked into factories. Zero hours, and short hours.
I've met workers whose health has been ruined, either mentally or physically by the work they have been forced to do – whether it is running round a warehouse in a circle for 12 hours a day, or dragging enormous trolleys when pregnant, or just being driven literally mad by the pressure of a bleeping gun on their belt no human being can keep up with.
When I think about starvation wages today, I think of a woman I met who works in a well-known supermarket – so hungry that she can't bear to look at the food coming along the conveyor belt. A woman who ended up at the foodbank patronised by the supermarket customers, while the store kept her poor and on short hours so it didn't have to pay her sick pay.
Who exactly is the scrounger in that scenario? Is it her or the bosses of that supermarket, whose bonuses grow fat on her hunger?
Last year, a woman gave birth in a toilet at the Sports Direct warehouse in Shirebrook because she was so afraid of having time off. MPs heard that ambulances were regularly called to the site because of people going to work so sick they passed out at work.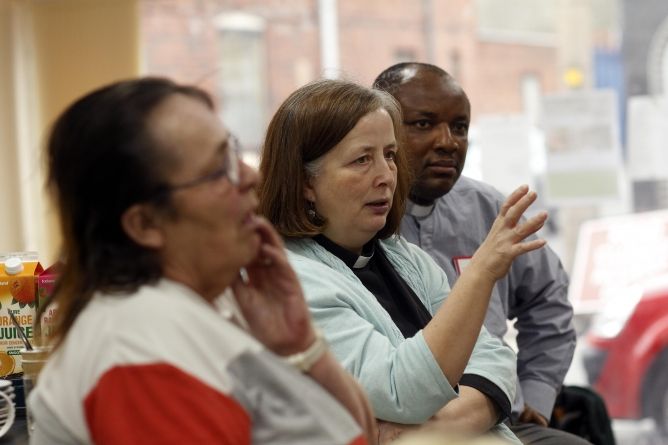 recently spoke to migrant workers from another warehouse who told me they were locked into parts of a warehouse with cable ties so they didn't go on toilet breaks. They told me they had to take their kids to school sick or that sometimes, some workers locked them in at home all day, so fearful were they of losing their jobs, and the roof over their heads.
There was a story just this week of young girls who don't go to school for some days each month because they can't afford tampons. Just today someone told me that women their area were turning to prostitution because of benefit sanctions.
And today in the Black Country I have heard frankly appalling stories from care-workers who are treated as if they are not human. And yet their employers rely on their humanity as they bring in basics like soap and milk for the people they care for, bought from their poverty wage.
**
80 years on from Orwell's journey and 107 since Mary Macarthur organised women in the Black Country, it's clear that unfettered capitalism is a deep river that always finds its way through the softest rock. It seeks out the most vulnerable and exploits them. We shouldn't be surprised by that. But it adds insult to injury when we see these new exploitations dressed up as freedom.
So, we're told today about this wonderful new nirvana called the 'gig economy', where everyone works the hours that suits them and gets to be a free agent. Five million people are employed in this way. Yet the reality can be something quite different.
I recently interviewed a woman from Hermes, the delivery company that describes its workers as "lifestyle couriers". The woman, Cherie, described the work as "total slavery".
It's not slavery in the sense that the chain-makers would understand it. She doesn't work from behind barred windows. But there are dangerous echoes of a past we should be moving away from not back towards.
For the nine years she worked for Hermes, Cherie delivered parcels for six days a week and around 12 hours a day from 5.30am, for between 45p and 85p a parcel. She hadn't had a holiday in seven years. When her son was born she worked on the Monday, gave birth on the Tuesday night and went back to work on the Friday because she was so frightened she'd lose her job."
Her kids went to work with her too, strapped into car seats for hours every day and later after school.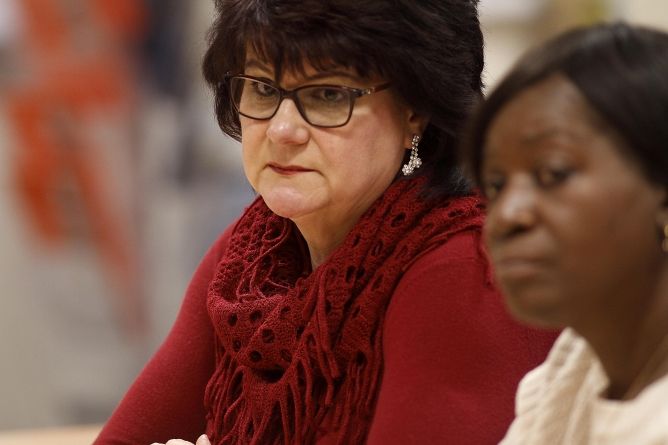 And when I was learning about the chainmakers, I also thought of a hotel cleaner I met last year. Barbara described many humiliating aspects of working for one of the biggest hotel chains in the world. One of them was 'fighting over the buckets' in the mornings where cleaning equipment and lists were handed out. No one wanted to be last in the queue in case there wasn't work for them that day.
The lucky ones would go on to work up to 12 hours for around £50 a day, below the minimum wage.
"No wonder," she said, "Paris Hilton has got so many handbags".
Two or three women would get sent home with nothing – usually the ones who had spoken out or were suspected of belonging to a trade union.
Funny how these parallels ring through the ages – in Mary's day too women who campaigned were told there was no work for them either.
And in Mary's day, she understood that a huge barrier to joining a union was the very low wages the chainmakers earned. They were faced with a choice between union dues and feeding their family.
But as Mary herself said - "Women are unorganised because they are badly paid, and poorly paid because they are unorganised".
We need to harness her spirit now, tackling abuses in those industries like care work, which is still often women's work. And perhaps we already are.
Because the greatest achievements of the trade union movement in recent years have been in industries that people previously thought 'unorganisable'.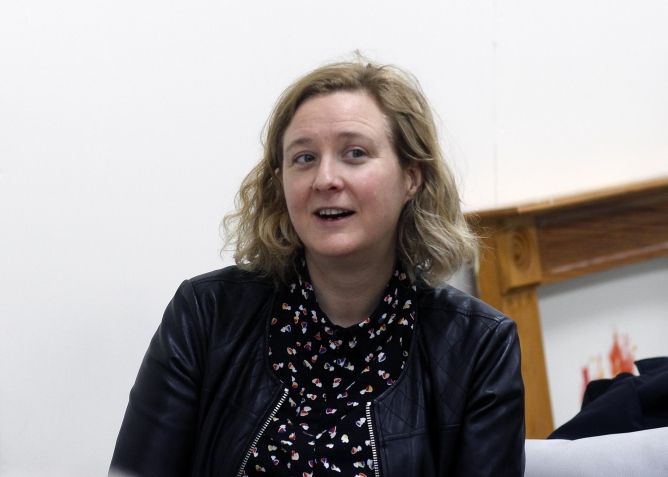 Look at Sports Direct – where thousands of workers in Shirebrook won £1m in back pay and had their pay rightfully brought in line with the minimum wage after unions ran an imaginative campaign against Mike Ashley.
Look at Deliveroo, whose riders forced management to back down on plans to force riders onto a new contract that would have meant massive pay cuts.
And Uber – where drivers won a landmark case over workers' rights.
And the hotel workers union that is forming to represent people who are currently being exploited every day.
From chain-makers to chambermaids, Mary Macarthur's words ring true down the generations. We should leave no profession or workplace behind.
Meanwhile, trade unions are spearheading opposition to NHS privatisation, fighting eye-watering cuts to schools, and taking on the Tories over disability and other welfare cuts. Advice and support services offered by unions are now sometimes the only welfare net at all.
I think that Mary would have been proud of these huge victories.
And look at the progress women have made.
107 years on we have a woman Prime Minister – something Mary and the suffragettes she fought alongside could only have dreamed of.
Unfortunately, I don't think it's putting words in Mary's mouth to suggest she never dreamed of Theresa May or Margaret Thatcher.
In 1910 suffragette leader Sylvia Pankhurst created a beautiful drawing of the chain-makers. A few weeks ago her daughter Helen led a women's march through London saying enough was enough.
Because we may have a woman Prime Minister but we also have gender pay gap of around 9.4 per cent in the UK – a gulf that rises to almost 40 per cent in some parts of the country, some parts very close to here.
Women workers in the West Midlands typically earn £2 to £3 less an hour than men, building up to a gap of £80 - £120 a week.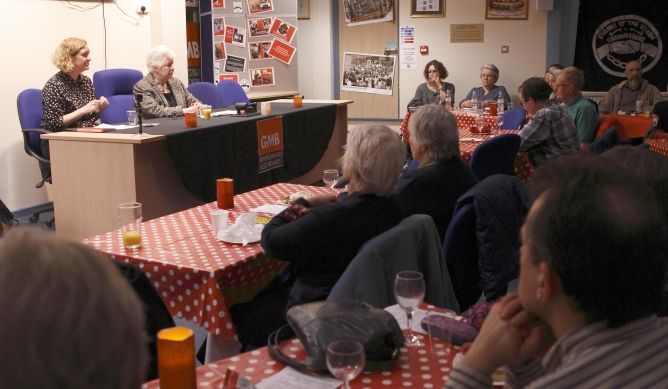 And that was just one of a hundred reasons women were marching.
So sometimes the issues we face as women and trade unionists and campaigners feel insurmountable.
The Tories have won two general elections in a row. The EU referendum has opened a Pandora's Box of racist and fascist sentiment. Women in public and political life face daily abuse and death threats. One of our best MPs and friends was murdered for doing her job.
We are coming out of the European Union and must fight all over again for the rights Europe once guaranteed us. Donald Trump has been elected President leaving America in anything but a united state.
But that is also why trade union history is more than just history. History talks of the past. The chainmakers' fight is part of a collective memory. A memory that tells us that when we are united and we have the courage of our convictions, when we stand for the people working alongside us, we win.
Mary Macarthur died at the age of just 40 – imagine what she would have achieved if she had lived to twice that age. One of the chainmakers said of her that "she was the best woman who had ever came. She was one of God's angels".
They called her the Angel of the Workers, but I prefer to think of her as the hammer of the bosses, lit by one of those medieval fires. By following in her example, we not only honour her but free ourselves.
Ends
Issued: 31 March, 2017