Biographical details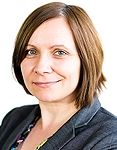 Nicola Smith was appointed Head of the Economic and Social Affairs Department (ESAD) in March 2011.
The Department leads the TUC's work in many key areas of economic and social policy, seeking to influence public and political debate through a comprehensive programme of research, analysis and events. Significant areas of work cover macroeconomic and fiscal policy, industrial policy, climate change and energy policy, corporate governance and capital markets, social security and the welfare state, pensions policy and housing policy.
The Department gives particular consideration to economic and labour market trends and their implications for people at work. ESAD works closely with many partners including trade unions, government departments and agencies, employers, NGOs, think tanks, parliamentarians and journalists.
Before joining the TUC as Head of ESAD, Nicola held Senior Policy Officer roles coordinating the work of the Commission on Vulnerable Employment and then specialising in labour market and social welfare policy. Prior to that she worked as a principal researcher at the Centre for Economic and Social Inclusion and in policy and research roles for Barnardo's and the Children and Young People's Unit at the then Department for Education and Skills. Nicola is also a member of the Social Security Advisory Committee.
Nicola has written widely and contributed to radio and television broadcasts covering many areas of economic and social policy debate.
Issued: 5 April, 2013