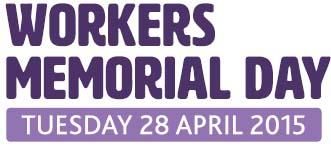 The purpose behind Workers' Memorial Day has always been to "remember the dead: fight for the living" and unions are asked to focus on both areas, by considering events or memorial to remember all those killed through work but at the same time ensuring that such tragedies are not repeated. That can best be done by building trade union organisation, and campaigning for stricter enforcement with higher penalties for breaches of health & safety laws.
Workers Memorial Day is commemorated throughout the world and is officially recognised by the UK Government.
Over 20,000 people die every year because of their work. Most of these because of exposure to dangerous substances. This year the theme for the day is "removing exposure to hazardous substances in the workplace" Hazardous substances are found in almost every workplace in the UK and many workers have no protection against the possible effects, despite the fact that tens of thousands of workers have their health destroyed by asthma, dermatitis, lung disorders and cancers because of exposures. They range from cleaning fluids in almost every workplace, silica dust in construction, tobacco smoke in prisons right through to blood and faeces in health and social care.
In addition to hazardous substances many unions and trades councils will be campaigning on the general theme of demanding better regulation, greater inspections and an end to the anti-health and safety rhetoric from the government and their allies in the press.
Below is a list of some of the events that are happening up and down the country. Some of these events will also feature a minute's silence at noon, or a suitable time. All are on 28th April unless indicated otherwise.
What you can do:
Find out what is happening in your area on 28 April. This website will list all the local activities we know about, but you can also ask your union branch or trades council;
If nothing is happening then get together with some of your workmates or others in the area where you work and organise something. It can be a commemorative rally, a workplace meeting or just a small get-together;
The event takes place shortly before the General Election. Ask your candidate for their views on the need for a strong health and safety regime to prevent workers being killed, injured or made ill through work.
Organise a minute's silence in your workplace on the day;
Ask your local council, or any other public body, to fly official flags at half-mast on the day. Remember that the day is officially recognised by the government;
Arrange an event such as planting a memorial tree in a public place, putting up a plaque, dedicating a sculpture, a piece of art, or a bench, to remember workers who have been killed at the workplace or in the community;
If you are planning any events for the day, or you want to raise awareness about Workers' Memorial Day on 28 April, then it is important you consider how you can best use local media both before and on the Day.
Ask local religious centres to include Workers' Memorial Day in their worship on the day;
Distribute purple 'forget-me-not' ribbons, the symbol of Workers Memorial Day;
Let people know about anything that happened in your area on the day. use hashtag 

#IWMD15 

 
If you are organising an event for Workers Memorial Day and would like it displayed on these pages, then please email through the details to [email protected]
For resources on Workers Memorial day including ribbons and car stickers please contact the Greater Manchester Hazards centre at: [email protected].
Find out what's happening near you by following the links below. We will update this page as and when we hear about new events so please check back to keep an eye on what's happening on Workers Memorial Day 2015! Unless another date is given, all events are on 28th April.
National events
Bournemouth, The Communication Workers Union will be commemorating International Workers Memorial Day at their National Annual Conference at the Bournemouth BIC
​​London, meet at 10:30 at the Building Worker Statue, Tower Hill. 
London, protest outside Quatari Embassy, meet 12:30 W1K 1NB to demand an end to the slaughter taking place on the building sites for the World Cup.
Harlow, Rally and leaflet session at the Obelisk in Broad Walk, Harlow CM20 1HX from 11am until 12:45pm on Saturday 25 April. At 12:45 a march will take place from Broad Walk to St Paul's church in College Square 1LP where a short service will be conducted by the Town Chaplain
Walthamstow, meet at 1pm Walthamstow Town Hall, The ceremony will consist of speeches, wreath laying and then a one minute silence as a mark of respect.
Dagenham, meet at Civic Centre at 12.30pm for tree planting to commemorate WMD.  The tree has long been associated with industry and work and will grow strong and solid in this prominent position in the heart of our Community.  Megan Dobney SERTUC regional Secretary will be attending the event and the tree will be planted by the Leader of the Council. 
Medway Unison branch will be holding a service in the Rochester Castle grounds from 11.30 
Holborn, London meet at 10:45am,  Len McCluskey be dedicating a bench in Red Lion Square 
Midlands
Solihull, Meet at 2.30 p.m. Brueton Gardens (opposite Barley Mow pub)
Birmingham 12.30 p.m. Grounds of  St Philip's Cathedral, Colmore Row, B3 2QB
Cleethorpes at 3-00pm.  Meet at the Workers Memorial in the Pier Gardens Alexandra Road Cleethorpes. Service Conducted By Rev Paul Hunter
Wisbech, meet at 11:45 at Clarkson memorial
Derby: Meet at 10:30am at St Peter's Church, St Peter's Street, Derby  (opposite British Home Stores) for a service of prayer, thanksgiving and commemoration 
Leicester: 12 Noon. Meet at Leicester Town Hall Square.  The event will start with 1 minutes silence in respect of all those who have lost their lives due to work.  Speakers will include representatives from UCATT, UNITE, the Lord Mayor and MPs Jon Ashworth and Keith Vaz. 
Birmingham: 10:00–15:30. Safety Conference at Transport House, 211 Broad Street, Birmingham, B15 1AY. During lunch, delegates will join the Workers Memorial Day Event in the grounds of St. Phillip's Cathedral, B3 2QB. RSVP to [email protected]
Wolverhampton: 12.30pm. Meet at the Cenotaph, St Peter's Square Wolverhampton WV1 1TS. Speakers & Wreath Laying Ceremony
Lincoln meet by the steps near City Square in the city centre. This year's rally will take place by the WMD tree from 12noon 
Nottingham meet at 12pm, there will be a Service held at St Peter's Church, St Peter's Gate, Nottingham NG1 2NW
Coventry, meet at 12 noon, Bayley Lane, Coventry (next to the Council House)
Northern
Berwick upon Tweed & District Trades Union Council, Saturday 25th April, 12pm, For further information contact Philip Thompson, [email protected]
Barrow Saturday April 25th, meet at the the Steelworks sculpture, at the junction of Duke Street and Cavendish Street at 10.00am Anyone requiring further information should contact Mandy Penellum, tel 0786 685 2489, e-mail [email protected]
South East Northumberland Trades Union Council are hosting a health and safety seminar on the morning of 25 April 2015 at the Elephant, Newbiggin Road, Ashington, commencing 11 am
Crook, St Thomas Church, Stanley Village, B6299. Service starts at 7 pm
Hartlepool, Christchurch (TIC & Art Gallery) Church Square, meet at 12:30pm
​Hartlepool Trades Union Council are hosting a Health & Safety Training Seminar,to take place in Hartlepool College of Further Education, Stockton Street, Hartlepool, TS24 7NT, 9.00am to 12.00noon, Tuesday 28th April 2015.
Gateshead, ​Saltwell Park, Service commences at 12.30pm.
Sunderland, 1st May, 12:00, Sunderland Civic Centre All welcome, details call Gordon: 07754001687
Northern Ireland
Dublin,  The Irish Confederation of Trade Unions, Ibec and the HSA are jointly supporting a national event will take place at the Hugh Lane Gallery, ICTU HQ 31/32 Parnell Square, Dublin 1, at 9.00 am on 28th April.
North West
Manchester, Rally in Albert Square 12.15 to 13.00, Meeting at People's History Museum 13.30, Contact Manchester IWMD TU Organising  Group  Hilda Palmer 0161 636 7557 mail@gm,hazards.org.uk
Hartlepool, Remembrance Service & Wreath Laying Ceremony.  12.30pm, Christchurch (TIC & Art Gallery), Church Square, Hartlepool. 
Hartlepool HTUC is organising a Health & Safety Seminar on the morning of  28th April 2015 at Hartlepool College of Further Education (HCFE) to run between 9.00am to 12noon.
Chorley, Meet at the Park Gates , Park Road, Chorley on 24th of April 2015 , at 5:50pm, Contact: Steve on 07838402614
Preston, Meet Preston Flag Market from 11.45- with music, 12.00 - minutes silence, short rally, 12.30 - March with banners to Corn Exchange, laying of wreaths, 1.00 – butties in Black Horse​
Wirral, meet at Wallasey Town Hall, Wirral at 12.00noon.
Liverpool, meet at 1pm South Piazza George Dock Building, L3 1DD
Liverpool, North West TUC event, meet 11:30 at the Hod Carrier Memorial near Jack Jones House
Scotland
Edinburgh, meet at the Workers Memorial Day Tree, Princes Street Gardens 12.30-1.30pm
Aberdeen meet at 12.30pm for Ceremony at 1.00pm, at Persley Walled Garden, Bridge of Don, Aberdeen
Bathgate meet at Bathgate Sports Centre, Balbardie Park Torphichen Road, Bathgate, West Lothian EH48 4LA at 12.30pm
Bonnyrigg meet at 2.30, Michael McGahey memorial, George V Park , Bonnyrigg, EH19 2AD. 
Coatbridge meet at 12 noon, Sumerlee Industrial Museum, Coatbridge, ML5 1QD
Dundee meet at 12 Noon, Memorial Tree, Adjacent to Discovery Point, Riverside Drive, Dundee
Falkirk, Saturday 25th April, 11.45am for 12 noon, Municipal Buildings Falkirk, FK1 5RS
Fife, 11.00am, Memorial Tree, Beveridge Park, Abbotshall Road, Kirkcaldy, KY2 5LZ .
Glasgow meet at12 noon People's Palace/Winter Gardens G40 1AT.
Hamilton meet at, South Lanarkshire HQ, Almada Street, Hamilton, ML3 0AA
West Dumbartonshire meet Saturday 25th April, 10:30 am Christie Park Alexandria, G83 0DF, at the memorial tree.
South West
Bristol, meet at Bristol Youth Hostel, Narrow Quay, BS1 4QA 7pm start, free / donation
Yorkshire and Humberside
​Grimsby 1-00pm.  Meet at the Workers Memorial, in the Grounds of the War Memorial Nunn's Corner Grimsby. Service to be conducted By Rev Mary.J.Vickers Industrial and Urban Chaplian.
Immingham 10-00, meet at the Workers Memorial in the Grounds of the War Memorial Pelham Road Immingham. Service Conducted By Rev Mary.J.Vickers Industrial and Urban Chaplian.
Keighley meet at 11.00 am. in Cliffe Castle Park, walk to the Town Hall Square followed at 12.00 pm. by a short service of remembrance.
Hull meet at 1pm at the Rose Bowl Queens Gardens near to the Wilson Centre council offices in Hull city centre
Cleethorpes: meet at 3-00pm at Workers Memorial and tree in the Pier Gardens Alexandra Road Cleethorpes. Service Conducted By Rev Paul Hunter.
Sheffield: meet at 12:15 at City Hall steps for a short march to Town Hall
Leeds meet at 6.00 pm – 8.00 pm, Leeds City Council Chambers, Civic Hall, Portland Crescent, Leeds LS1 1UR
Keighley TUC are organising an event with the theme of Hazardous Substances, meet at 11am, Entrance to Cliffe Castle Museum, Spring Gardens Lane, Keighley, West Yorkshire BD20 6LH
Scunthorpe meet at 10am, Baptist Church, Ashby Road, Scunthorpe, South Humberside DN16 1NR
Bradford meet in the Memorial Garden at the rear of City Hall, starting with a minutes silence at 12 noon please gather from 11.45.
Barnsley – 12.30pm. Meet at the Cenotaph in front of Barnsley Town Hall. Speakers will include the Mayor of Barnsley Councillor Tim Shepherd, John Welch from Raleys Solicitors, local MPs and Trade Union officials.
Huddersfield, meet at 12.00 noon, Huddersfield Town Hall steps HD1 2TA, there will be the laying of the wreath, minute silence and guest speaker Mick Donoghue Kirklees UNISON 
Dewsbury, meet at  11.00 am, Memorial Stone, Long Causeway, Dewsbury, There will be the laying of the wreath and a minute silence followed by refreshment at Dewsbury Socialist Club, 67 Bradford Road, WF13 2GE 
Wales
Cardiff meet at 2:30, 1 Cathedral Road, to register email: [email protected]
Issued: 8 February, 2015