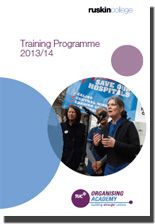 The TUC's Organising Academy Programme for 2014/15 will be available soon. If you are a union staff member and would like to register your interest, Please follow the link: https://www.surveymonkey.com/s/OrgAcad
The TUC Organising Academy continues to provide unions with an innovative and comprehensive package of training and consultancy support aimed at increasing the capacity of unions to be strong, effective and campaigning organisations.
This year's programme focuses on making organising more strategic and improving communications. Following on from our successful trial last year, we are continuing to provide a a dedicated award for union support staff that will enable them to contribute to the organising and campaign work undertaken by their unions. This year we have added a new course for staff responsible for managing organisers and officers.
Alongside our core programme, this booklet contains details of the TUC's Leading Change and Lay Leadership Development Programmes.
We look forward to working with you and your union in the year ahead.
Download TUC Organising Academy Training Programme 2013/2014 [PDF]
Thinking about studying with the TUC Organising Academy? Listen to these Academy graduates talk about their experiences of the programme.
Issued: 21 August, 2013