Social Issues
Activist Resources
This guide is aimed at trade union reps and members
A 3-part handbook with practical guide to taking action in
Society and Welfare blogs
The TUC believes in full employment and work for all those who want it, but those who cannot work should get decent benefits that lift them out of poverty. Here is research and policy on welfare and work issues. You can find older material by using the search facilities.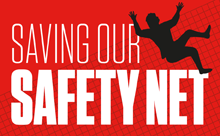 Saving Our Safety Net is a campaign we will run through the coming months, highlighting the government's welfare reforms that take away the safety net workers have been paying for through taxes and National Insurance Contributions. We'll also be highlighting the cuts that take away benefits and tax credits that help workers and their families survive the misery of low pay.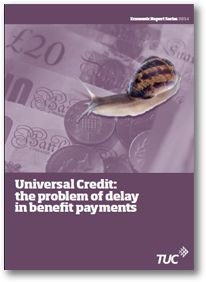 Saving Our Safety Net is based on research into what workers believe about the benefit system and the ways they think it should change. This research has found that, although there is widespread concern that it can be too easy to abuse the social security system, workers still support the principle of paying in from their wages to make sure there is a safety net if they fall on hard times through no fault of their own. Download Universal Credit: Solving the problem of delay in benefit payments [PDF]
Making Work Pay? What role can the welfare state play in raising living standards? A half-day free conference to be held at Congress House at 1.30-4.30pm on 8th December. Lunch available from 12.30 and the conference will be followed by a drinks reception.
Commenting on reports today (Thursday) that the government has considered cutting Employment and Support Allowance by almost £30 per week, TUC General Secretary Frances O'Grady said: "This is a scheme workers pay into from their earnings every month as insurance against serious illness or disability. Cutting it would mean plundering...
Commenting on the naming today (Wednesday) of the government's preferred bidders for running the probation services in England and Wales, the TUC General Secretary Frances O'Grady said: "The government is putting community safety at risk by pressing ahead with its goal of privatising probation. "We should be very worried that...
Seasons Playhouse — a youth theatre group — will be hosting a play and community discussion about low incomes in Liverpool, as young people see it. Using input of over 140 young people from around Merseyside, they have created a play called "Brass Razoo", to be shown during Living Wage...
Today (Wednesday) as the Royal Court of Justice starts hearing a case against the closure of the Independent Living Fund (ILF), a TUC-backed film – in which severely disabled people explain how the fund has helped them – is being distributed online. A judicial review brought by three disabled people...
Commenting on the latest pathfinder evaluation for Universal Credit, published today (Wednesday) by the Department for Work and Pensions, TUC General Secretary Frances O'Grady said: "It's very worrying that the Universal Credit pilots are putting claimants at greater risk of falling behind with their bills. "One of the big problems...
Responding to announcements made today (Monday) at the Liberal Democrat Conference by Vince Cable on increasing the minimum wage for apprenticeships and addressing employment contract abuse, the TUC General Secretary Frances O'Grady said: "This is the right thing to do for both young workers and the economy and will help...
Commenting on new proposals today (Monday) for a two-year freeze of working age benefits announced by George Osborne at the Conservative Party Conference, TUC General Secretary Frances O'Grady said: "In today's low-pay Britain, in-work benefits are a lifeline for millions of families. Working families have already been hit by three-quarters...
Commenting on today's report 'Better Growth, Better Climate' from the Global Commission on the Economy and the Climate, TUC General Secretary Frances O'Grady said: "This excellent report by a highly distinguished commission drawn from across the globe makes a compelling and practical case for how a rapid low-carbon shift can...
The government has today (Thursday) rejected recommendations by its expert advisers to exempt vulnerable claimants, including disabled people, from a new seven day waiting period for benefits. In its response to the Social Security Advisory Committee the government agreed that the financial situation of new disabled claimants tends to be...
Pages