Social Issues
Activist Resources
This guide is aimed at trade union reps and members
A 3-part handbook with practical guide to taking action in
Society and Welfare blogs
The TUC believes in full employment and work for all those who want it, but those who cannot work should get decent benefits that lift them out of poverty. Here is research and policy on welfare and work issues. You can find older material by using the search facilities.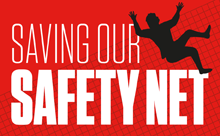 Saving Our Safety Net is a campaign we will run through the coming months, highlighting the government's welfare reforms that take away the safety net workers have been paying for through taxes and National Insurance Contributions. We'll also be highlighting the cuts that take away benefits and tax credits that help workers and their families survive the misery of low pay.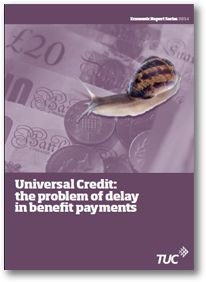 Saving Our Safety Net is based on research into what workers believe about the benefit system and the ways they think it should change. This research has found that, although there is widespread concern that it can be too easy to abuse the social security system, workers still support the principle of paying in from their wages to make sure there is a safety net if they fall on hard times through no fault of their own. Download Universal Credit: Solving the problem of delay in benefit payments [PDF]
An ambitious roll-out of Carbon Capture and Storage (CCS) technology in Scotland would generate a large number of jobs and create a market worth £15-35bn by 2030, says the TUC and the Carbon Capture and Storage Association (CCSA).
Responding to research that shows over 100 people a day with a mental health condition are having their benefits stopped as a sanction, TUC General Secretary Frances O'Grady said: "These sanctions show a government that is more interested in punishing vulnerable people than supporting them in their attempts to find...
The future of local authority services in England are under threat from a growing funding crisis, with significant cuts already being made to statutory adult care and children's services, according to new analysis published today (Friday) by the TUC and the Centre for Local Economic Strategies (CLES). The report Austerity...
Over 250,000 people are set to spend their second successive Christmas on the dole, according to TUC research published today (Monday). The actual number of people spending their second successive Christmas out of work is even higher. The 250,000 figure includes only those who are claiming Jobseekers Allowance (JSA). But...
Unions have today (Friday) warned that they may not be able to support global climate change legislation if it fails to protect workers' jobs, says the TUC. Although unions plan to support the United Nation's ambitious climate change treaty in Paris next year, they are concerned that as the world...
We take a look at what happened at the TUC Making Work Pay? What role can the welfare state play in raising living standards? conference held on 8th December 2014. It focused on the impact of the current high levels of unemployment and falling average weekly earnings, low-paid workers and...
Responding to the report published today (Monday) by the All-Party Parliamentary Inquiry into Hunger and Child Poverty, the TUC is warning that new rules forcing benefit claimants to wait at least five weeks before they receive any cash will see a much greater use of food banks.
With polls suggesting that next year's general election is too close to call, the TUC is today (Thursday) publishing new analysis showing that there are over four million 'missing votes' from people under the age of 35. The analysis – launched during the TUC's Young Workers' Month – finds that...
Commenting on new analysis published today (Monday) by the Institute for Fiscal Studies, which shows that government cuts to social security have not achieved intended savings, TUC General Secretary Frances O'Grady said: "As the bedroom tax shows, government welfare policies have always been about cuts rather than providing a proper...
The housing experiences of young people across the UK – who have told the TUC and Generation Rent that they face unaffordable housing costs, insecurity of tenure and exploitation by private landlords – will be one of the topics debated today (Saturday) in London at the TUC's Big Youth Debate...
Pages