Social Issues
Activist Resources
This guide is aimed at trade union reps and members
A 3-part handbook with practical guide to taking action in
Society and Welfare blogs
The TUC believes in full employment and work for all those who want it, but those who cannot work should get decent benefits that lift them out of poverty. Here is research and policy on welfare and work issues. You can find older material by using the search facilities.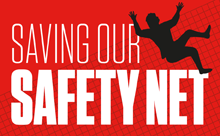 Saving Our Safety Net is a campaign we will run through the coming months, highlighting the government's welfare reforms that take away the safety net workers have been paying for through taxes and National Insurance Contributions. We'll also be highlighting the cuts that take away benefits and tax credits that help workers and their families survive the misery of low pay.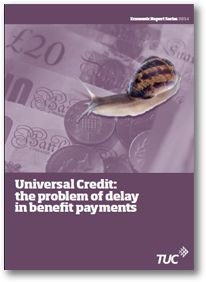 Saving Our Safety Net is based on research into what workers believe about the benefit system and the ways they think it should change. This research has found that, although there is widespread concern that it can be too easy to abuse the social security system, workers still support the principle of paying in from their wages to make sure there is a safety net if they fall on hard times through no fault of their own. Download Universal Credit: Solving the problem of delay in benefit payments [PDF]
Unions have today (Friday) warned that they may not be able to support global climate change legislation if it fails to protect workers' jobs, says the TUC. Although unions plan to support the United Nation's ambitious climate change treaty in Paris next year, they are concerned that as the world...
We take a look at what happened at the TUC Making Work Pay? What role can the welfare state play in raising living standards? conference held on 8th December 2014. It focused on the impact of the current high levels of unemployment and falling average weekly earnings, low-paid workers and...
Responding to the report published today (Monday) by the All-Party Parliamentary Inquiry into Hunger and Child Poverty, the TUC is warning that new rules forcing benefit claimants to wait at least five weeks before they receive any cash will see a much greater use of food banks.
With polls suggesting that next year's general election is too close to call, the TUC is today (Thursday) publishing new analysis showing that there are over four million 'missing votes' from people under the age of 35. The analysis – launched during the TUC's Young Workers' Month – finds that...
Commenting on new analysis published today (Monday) by the Institute for Fiscal Studies, which shows that government cuts to social security have not achieved intended savings, TUC General Secretary Frances O'Grady said: "As the bedroom tax shows, government welfare policies have always been about cuts rather than providing a proper...
The housing experiences of young people across the UK – who have told the TUC and Generation Rent that they face unaffordable housing costs, insecurity of tenure and exploitation by private landlords – will be one of the topics debated today (Saturday) in London at the TUC's Big Youth Debate...
The amount of time that commuters spend travelling to and from work has increased substantially over the past five years, according to a TUC analysis of official figures published today (Friday). The figures – published to mark the end of Commute Smart Week organised by Work Wise UK – show...
Unions involved in the TUC-led All Together for the NHS campaign are backing a Bill sponsored by Clive Efford MP that will put patients' needs before private profits and protect health services from privatisation. The National Health Services (Amended Duties and Powers) Bill, published today (Friday), will have its Second...
Responding to the publication today (Thursday) of a Public Accounts Committee report that is critical of the performance of Work Programme private contractors and their use of sanctions, TUC General Secretary Frances O'Grady said: "Once again the Public Accounts Committee has exposed private contractors for broken promises and poor performance...
Green innovation: industrial policy for a low carbon future This report for the TUC by Prof Paul Ekins and Will McDowall argues that government has a key leadership role in creating a "dynamic and vibrant innovation system" that meets society's environmental and economic aspirations. The direction the UK's economic growth...
Pages