Social Issues
Activist Resources
This guide is aimed at trade union reps and members
A 3-part handbook with practical guide to taking action in
Society and Welfare blogs
The TUC believes in full employment and work for all those who want it, but those who cannot work should get decent benefits that lift them out of poverty. Here is research and policy on welfare and work issues. You can find older material by using the search facilities.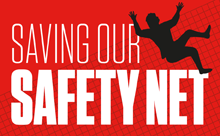 Saving Our Safety Net is a campaign we will run through the coming months, highlighting the government's welfare reforms that take away the safety net workers have been paying for through taxes and National Insurance Contributions. We'll also be highlighting the cuts that take away benefits and tax credits that help workers and their families survive the misery of low pay.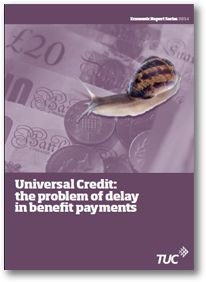 Saving Our Safety Net is based on research into what workers believe about the benefit system and the ways they think it should change. This research has found that, although there is widespread concern that it can be too easy to abuse the social security system, workers still support the principle of paying in from their wages to make sure there is a safety net if they fall on hard times through no fault of their own. Download Universal Credit: Solving the problem of delay in benefit payments [PDF]
Responding today (Tuesday) to the Oakley Review of Jobseeker's Allowance (JSA) sanctions, TUC General Secretary Frances O'Grady said: "While this report identifies some important areas for improvement, its limited remit means the worst excesses of the current sanctions regime look set to remain in place.
Most people who lose their jobs will soon have to wait five weeks before they get any cash help, according to small print in the Universal Credit rules uncovered by the TUC as it launches a new campaign today (Wednesday), Saving Our Safety Net. A YouGov poll reports opposition of...
GREENING THE WORKPLACE – BUILDING THE UNION EFFECT, 11 JULY 2014 Speech by Kay Carberry, TUC Assistant General Secretary Key points from the new Labour Research Department report for the TUC on the union effect in greening our workplaces. New rights for environmental reps.
Commenting on the publication today (Tuesday) of a government-commissioned analysis of the bedroom tax, which shows that many affected tenants are being pushed into arrears, TUC General Secretary Frances O'Grady said:
The Union effect, the latest greenworkplace report from the TUC, bring together the latest evidence of on the benefits of joint union/management "green" initiatives at work.
Shadow Public Health Minister, Luciana Berger MP, last week visited three of the TUC's Digital Hubs to see the work that is being done by the project to improve the basic digital skills of thousands of Liverpool residents. The digital hubs project is facilitated by the North West TUC and...
TUC welcomes EU investment in Yorkshire carbon capture project The TUC today (Tuesday) welcomed the news that the European Commission is to award up to £240m to the White Rose carbon capture project in Yorkshire. TUC General Secretary Frances O'Grady said: "This is great news for jobs and investment in...
Mae undebau llafur TUC Cymru o fewn y gwasanaeth iechyd yn cynrychioli miloedd o weithwyr ymroddedig mewn amrywiaeth eang o swyddi, o nyrsys a gweithwyr parafeddygol i borthorion a ffisiotherapyddion. Yn gyfan gwbl, mae'r undebau sy'n aelodau o TUC Cymru'n cynrychioli rhyw 400,000 o weithwyr ar draws y sector preifat,...
Wales TUC trade unions within the health service represent thousands of committed workers in a wide variety of roles, from nurses and paramedics to porters and physiotherapists. As a whole, Wales TUC affiliated unions represent around 400,000 working people across the private sector, public services and voluntary organisations in Wales...
Commenting on a new analysis of earnings growth over the last 40 years, published today (Thursday) by the Office for National Statistics, TUC General Secretary Frances O'Grady said: "The last 40 years show a picture of growing wage inequality. The more you earn, the faster your pay goes up, while...
Pages