Social Issues
Activist Resources
This guide is aimed at trade union reps and members
A 3-part handbook with practical guide to taking action in
Society and Welfare blogs
The TUC believes in full employment and work for all those who want it, but those who cannot work should get decent benefits that lift them out of poverty. Here is research and policy on welfare and work issues. You can find older material by using the search facilities.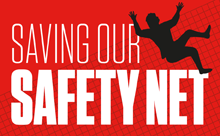 Saving Our Safety Net is a campaign we will run through the coming months, highlighting the government's welfare reforms that take away the safety net workers have been paying for through taxes and National Insurance Contributions. We'll also be highlighting the cuts that take away benefits and tax credits that help workers and their families survive the misery of low pay.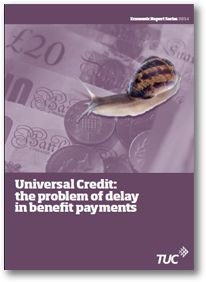 Saving Our Safety Net is based on research into what workers believe about the benefit system and the ways they think it should change. This research has found that, although there is widespread concern that it can be too easy to abuse the social security system, workers still support the principle of paying in from their wages to make sure there is a safety net if they fall on hard times through no fault of their own. Download Universal Credit: Solving the problem of delay in benefit payments [PDF]
Commenting on new proposals today (Monday) for a two-year freeze of working age benefits announced by George Osborne at the Conservative Party Conference, TUC General Secretary Frances O'Grady said: "In today's low-pay Britain, in-work benefits are a lifeline for millions of families. Working families have already been hit by three-quarters...
To make the Britain Needs A Pay Rise march as safe as possible we are organising volunteer stewards to help out on the day. If you'd like to play a part in making 18 October a day to remember for thousands of marchers, we'd love to hear from you. If...
Commenting on today's report 'Better Growth, Better Climate' from the Global Commission on the Economy and the Climate, TUC General Secretary Frances O'Grady said: "This excellent report by a highly distinguished commission drawn from across the globe makes a compelling and practical case for how a rapid low-carbon shift can...
The government has today (Thursday) rejected recommendations by its expert advisers to exempt vulnerable claimants, including disabled people, from a new seven day waiting period for benefits. In its response to the Social Security Advisory Committee the government agreed that the financial situation of new disabled claimants tends to be...
Only five areas remain in the North West where houses cost less than four times the average local salary, according to new analysis published today (Monday) by the TUC. It shows that homes in half the local authority areas across the region have become out of reach for local people...
The majority of social security cuts announced by the government will fall on working families, who will suffer twice the level of benefit losses as out of work families, according to a new report published today (Friday) by the TUC.
Pensioner families across the UK will suffer social security cuts worth £6.38bn a year by the time the government's welfare reforms have taken full affect, the TUC warns today (Sunday) ahead of a new report on the impact of social security cuts published later this week.
Responding to today's (Wednesday) report Remember the Young Ones on youth unemployment published by the Institute for Public Policy Research the TUC General Secretary Frances O'Grady said: "While youth unemployment is now finally starting to fall there are still over 160,000 more young people out of work than was the...
New research published last week by the TUC reveals the future impact and scale of a controversial new welfare reform – the five-week wait – on workers in the North East, with 16,113 newly unemployed people set to be hit each month. Currently, most workers who lose their job have...
New analysis published today (Thursday) by the TUC shows that the majority of claimants who will be hit by the government's new five-week wait welfare reform are short-term claimants who only claim the benefit for a few weeks.
Pages