Disability Issues
Activist Resources
Autism in the workplace , written for the TUC by
First published in 2005, this new edition has been updated
Guidance for unions on how to deal with discrimination against
With disabled people's jobs and living standards under serious attack from Government attacks on public services, the TUC has published up to date advice and guidance for trade unions on the law on disability discrimination, along with good practice in dealing with day to day issues in the workplace. The latest edition of Disability and Work can be downloaded free of charge (PDF) or ordered from TUC publications.
The TUC and members of its Disabled Workers' Committee welcome invitations to speak at trade union and campaign meetings on issues affecting disabled people. To see if someone is available to speak at your meeting, please first contact ppurton@tuc.org.uk, giving as much notice as you can. (Please note you would have to meet any speakers' expenses)
Mental health at work
The TUC has linked up with MIND to work together to promote mental health in the workplace and to challenge the discrimination and prejudice that prevents millions of people with mental health issues from getting or keeping jobs. For free workplace and campaigners' guides, wellbeing tips and other resources visit MIND's Mental health at work pages.
The TUC and many unions publish advice for union officers and reps in dealing with the increasing problems of mental ill-health at work and the prejudice and discrimination that people with mental health problems continue to face. In addition to the booklet Representing and Supporting members with mental health problems at work (see box below), the TUC has published (October 2012) an updated guide to the wide range of advice now available. Trade Unions and Mental Health: a resource list, can be downloaded free.
Disability Guides
TUC Disabled Workers' Conference
The TUC Disabled Workers' Conference 2014 took place on 28-29 May. Download the conference report 2014 [PDF].
TUC Disabled Workers Committee members showing solidarity with RMT/TSSA dispute following their recent meeting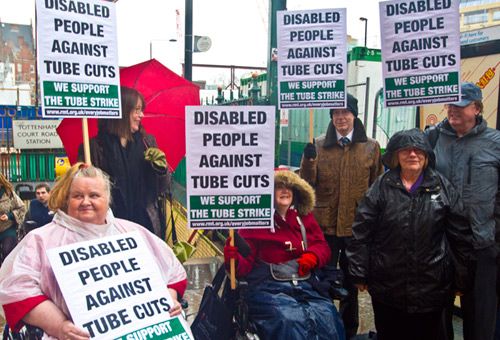 Disabled people are particularly concerned that TfL's proposal to close all ticket offices will impact on their already limited ability to obtain support and assistance when accessing the underground. Some disabled people will be unable to use ticket machines. Photo © Les Woodward (GMB)
---
Pages